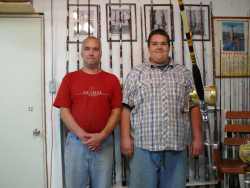 John Heil and John Jr. hail from Wisconsin USA.


We have known each other for several years and he has been instrumental in sourcing several of my Big Red's: viz the ABU Garcia Admiral reels.
For this selfless sharing and assistance, I will always be indebted to him.

He has a fantastic collection of PENN Big Game IGFA reels, rods, lures, yes even a fighting chair as used on a Game Fishing boat.
I didn't know much about fishing tackle until I saw the movie "JAWS". One of my very first fishing reels was the 16/0 Penn Senator. I can't thank "JAWS" enough for changing my life so much that it has impact my life greatly. After getting the 16/0 Penn, I was still not satisfied with just owning that. So then I said to myself that I would collect the rest of the sizes, and while searching for those I noticed other reels, and more, and more, so here I am today. I own several Senators with 1 complete set and over 500 other reels that caught my attention over the years. I want to say that I collect all Big Game Reels.
Whatever I can afford is mine for the taking. I want to thank eBay for almost everything I own plus all the other great friends I have.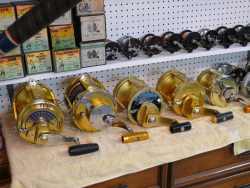 Will I continue to collect antique fishing tackle .... Yes, knowing that my son John Jr. is very intersted in fishing tackle which makes me ever more happier. I will know when I pass on that my son will continue my collection....no wait.... OUR COLLECTION!!