ABU Quality Control.
Many thanks as usual to my linguist friend Christian Matevzic who tirelessly translates Swedish to English so many more ABU fan's worldwide can appreciate more fully the joy of their interest.
Here are two never seen before images from an in house Service manual for staff.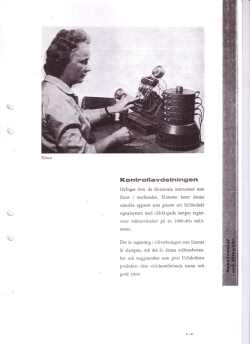 "The inspection department has the market´s premier instruments at it´s disposal. Elotester is this ingenious device's name, which, through it´s perfect signal system with differently coloured lamps registers measurement deviations by the thousandth part of a millimetre. There´s nothing in the production that is left to chance, and it is this purposefulness and accurateness that gave A.B. Urfabriken´s products their world wide name and good reputation."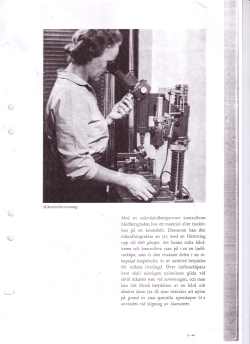 "With a micro hardness tester a materials degree of hardness or a chromium platings thickness is inspected. Furthermore it can microphotograph an area with an up to six hundredfold magnification. To be able to measure the hardness and to inspect the surface on, for example, a winding cup , which is the most vital part in a half encapsulated fixed-spool reel, is of tremendous importance for the reels life expectancy. As the nylon line has to slide across the winding cup´s edge during the cast as well as during the retrieving, one can easily understand the importance of a hard and absolutely flat surface, when bearing in mind that nylon, due to it´s special characteristics, amongst other things, is being employed for cutting diamonds."
Some have been critical of Swedish reels going offshore for production for cost saving.
Where this involves the introduction of plastic parts and very complicated build and re-build procedures, I am also somewhat sceptical as I would prefer the all metal construction of the old days.
My personal experience has been that ABU reels have possibly improved in quality control over time.
Minor marks and blemishes which were once unavoidable some 35 years ago are now not present at all.
A perfect example may be drip marks on one of the most collectable of all reel batches ie Ambassadeur 550 CDL B.A.S.S reels commissioned by Ray Scott in USA from 1977.
When Len Borgstrom was questioned on this , he suggested this was of the day/era but ..in his words re the process
"Wayne,
I agree with your ie "annodization drippping in the batch" analyses of how the spots have happened on the reels.
"Personally I feel that they should not have passed inspection. ie (by today's standards)
There is a possibility that the spots can develop over time
Regarding the value of the reels with spots, that is entirely up to the buyer. If you find a misprinted stamp or coin, the value goes up
Len"
They are undoubtedly a sign of how process has improved over 7 decades of production of the finest reels in the world.
So, I guess if you want one of these, one contends with such a minor imperfection of the day and grabs it with both hands!
I know it won't stop me searching for one! Please contact me......