In each official yearly ABU catalog, items which were from the previous year were highlighted with these images , basically meaning new in Swedish.
I will attempt to show here as many as I can locate. I believe attitudes changed when the original family dynasty management ceased to be in control.
Publicly listed companies have different priorities and in many cases attitudes and goals change from one of excellence at all costs to one of obtaining best financial results for the investors.
Many I have hyperlinked to larger images but there are some I have not been able to manage. Good luck with clicking!
1950

1951
Very few reference exist concerning ABU's outsourcing to Norway for split cane rods.
I do not own one of these and would love to get one of any model.
ABU outsourced some lures from Norway; Norska Drag but first advertized them in their napp och Nytt catalog of 1951.
I am unsure where the plastic Lavae imitations came from.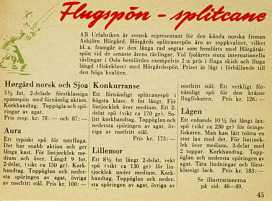 1952
The Record 600 does not have a complete flick over bail.
More details needed if anyone is aware.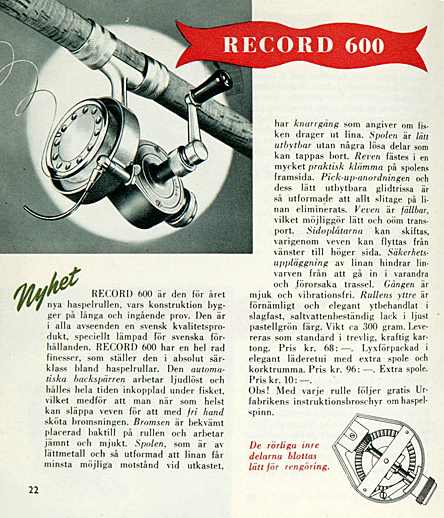 The weedless (vassdrag) models of many ABU lure became popular for fishing in and around weedy freshwater lakes.
The Spirellen was the ultra tiny version of a similarly named spinning lure. It was made in 3 colours, silver , gold and Z
Safir was first produce with NO Markings being being labelled on the normal concave surface.
1953
This was the milestone creation for ABU. The wonderful, world beating Record Ambassadeur 5000.
Made in a few test colours of red, black, green (maybe more), eventually red was settled upon as being most marketable.
If anyone has a black or green on they want me to care for, I should be honoured to perform the task!
The ABU -Variant was a brilliant spinner which enabled the fisherman to change his lure according to the conditions at hand.
It was marketed in a small cylinder and later in a rectangular box.
1954
The little (Lil) versions of many lures were very popular small baits weighing 7g or 1/4 oz imperial.
1955
The Hilo was originally a co-operative creative with Heddon (USA) but ABU designed their variable lip system instead of the fixed one position found on the USA made Heddon Vamp Spook etc. made with 5 position lip compared to the following more versatile 6 position lip model.
Foe a short time they were dual branded ABU Heddon Hilo and I would love to add just one of these in any colour to my collection.
Heddon also supplied these lures, Punkin seed , tads etc under their own name in the Napp och Nytt catalogs for several years in the 50's.
1956
Our fabled Toby was invented so long ago, in fact at the same time ABU agreed to sell Pfleuger reels in the N&N catalog in direct competition with the Record Casting reels. Does anyone know why?
1957

Catalogs were first produced in English
The Abumatic 60 was created and first sold in 1956 but was first advertized in the 1957 N&N as well as Tight Lines catalog.
It was available in a cardboard box as well as a full leather cow hide case.
It may seem strange but I do not own a tidy complete model 60, so if anyone has one available please contact me.
So many classic lures like Hazard, Facette, Joker, Flamingo, island (in 7, 12 and 18g size), wee added to ABU's prooduct range this year.
I am very fortunate enough to have 2 of Gote Borgstoms personal Island lures (below) which were especially pressed for him at 12 g weight material bu in the 7g mould. ie creating a denser, heavier but not bulkier salmon lure to cast further and swim deeper. Authenticity of this fact can be attested by my good friend Uffe Edefuhr who obtained the lures from factory contacts more than 30 years ago.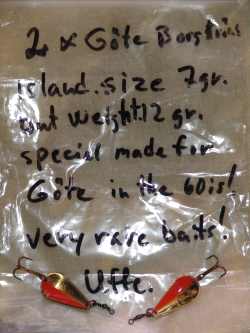 1958

The afore mentioned ABU Heddon Hilo is now produced with a 6 position lip and the Record 999 spinning reel was released in the same year.
This is a significant reel as it was the first to have a three speed gear mechanism activated on the winding handle. It was a big heavy reel, weighing 380g, and having a capacity of 260m of .30mm monofilament and was very expensive for the day, being 160 sek when its predecessor Record 1000 cost only 110 sek.
1959

The well known and popular Abulon first cam onto the market selling for 3.25 to 7.25sek per 100m for 3 to 10.2 kg monofilament with diameter from .25mm to .50mm.
The main claim to fame for these Abumatic 70/80 reels were that they were able to be lubricated from the outside of the reel case without disassembly. They had a synchro drag, cross winding of the line and the line pick up was made of tungsten carbine while the winding cup was hard chromed stainless steel. Capacities were 170 m of 4 kg and 160m of 5.5kg monofilament.
Plastic were first used for baits, admitedly a long way from today's soft plastics. The collet system used in the Speedlock grip system was advertized along with the new line runner design utilizing a single foot to avoid digging into the sidewall of light blanks. this would not appear on Fuji runners for another 40 years! How advanced ABU were!
The Record Fisken pins in Bronze, Silver (I need one) Gold an dGold with Laurels were also displayed.
The famous ABU Killer was introduced in this fibreglass covered balsa form first before the cross-hatched plastic models in late 60's.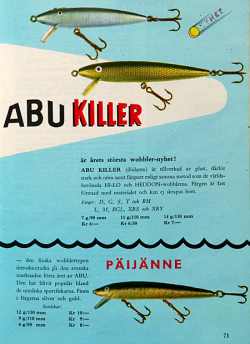 The weedless Spinnaren (Vas) and Koster popular baits.
ABU packaged groups of lures known as Assortments and Cocktail packs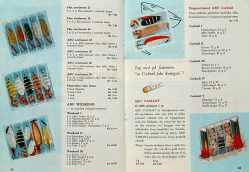 I do hope you enjoyed these highlights of ABU from the 50's.
If you are a person that has significantly had an effect on design/development/testing of ABU equipment over the years please contact me wayne@realsreels.com if you wish your contribution documented for posterity and the immediate interest of the ABU fans worldwide!