Unique Aussie
Lures


Ultimate Australian Fishing Lure Forum - LureLovers.com
Gidgee Lures

The Gidgee Lures Story

Tom Barratt (Jnr) is the man behind Gidgee Lures, growing up in Tenterfield in Northern New South Wales. Tom created his first lure somewhere around 1989, designed to capture Murray Cod and Golden Perch (Yellowbelly) and proved to be fatal on Trout also when they were plentiful in the rivers and streams around the Bolivia area.

These days Tom resides in Brisbane. Of course growing up in Tenterfield did play an integral role in many of Tom's designs, growing up with Trevor McFeeter's (Tenterfield Lures) boys, Tom witnessed first hand Trevor at work in his lure making shed and him and the boys taking a couple of blanks to have a carve at.

Tom recently has been discussing the fine tuning of his lures with Lure Designer and Craftsman Brett Campbell, but credits his back yard neighbour John Geihe for introducing him to the craft of lure making.

Being able to easily access lures from other well know lure makers like Peter Newell and Terry Marshall have also given Tom an insight into the styles of lures people are interested in. Tom originally started to make his lures for his own personal use carving them from red cedar window frames, and sanding them by hand with pieces of sandpaper, cutting aluminium bibs with tin snips and applying paint with a spray can. These days Tom has fine tuned the manufacturing process of his lures and upgraded his paint, bibs and tackle along the way.

Always willing to share what he has learnt Tom has conducted a few lure making workshops for various clubs and organisations, giving others an insight into his hobby that has slowly developed into a small scale backyard business.

"Gidgee" the brand name, reflects Tom's early years, back in the day he trained as a butcher and was called "Gidgee" by his work mates, so when a name was needed it popped up again and has stuck ever since. Tom reckons there is no better way to spend an early morning, day or evening walking the banks of creeks and river systems lurecasting and having a fish take something you have made is even better, but the thrill for Tom at the moment is top water fishing with a new surface lure called the "Paddler" it creates a loud plop, plop, plop, plop, plop paddling noise……that takes Cod both day and night, when retrieved continuously or by hesitation but you need to brace yourself for the BOOF!!!!!!

The lure colours which anglers choose are wide and varied and all have their own personal preferences, as Tom does his favourite colour scheme/combination is purple with either yellow/black patterns or bars which have proven to be the most successful for him.

The latest model to join the Gidgee Lures growing stable is the deep and shallow diving "Sardinops", this new exciting lure was originally designed by Paul Kneller (Deception Lures) and is now produced by Tom. Its hand crafted timber body measuring 100 mm and a total overall length 125 mm (deep) 115 mm (shallow), including the clear lexan bib, the "Sardinops" is clearly aimed at Barramundi and Mangrove Jack, but is also sure to take its share of other species in both fresh and saltwater.

The "Sardinops" dives reasonably steeply when retrieved and can easily attain running depths in excess of 5 metres, trolling depths will be greater depending on line type and speed. There are currently15 models in the Gidgee Lure range, one of the smallest of which is dynamite on Bass, the Gidgee "Ripple Crank" a top water wake lure to the largest a bruiser for Murray Cod, the "Big Fella".

Personally, my current Gidgee lures total 7 but it won't be long before this changes


Personally, my current Gidgee lures total 7, comprising red/white Jewmack, purple /silver Kelpie and its black and gold offspring called the Pup. The small poppers are known as Kidney Slappers, but it won't be long before this changes I'm sure.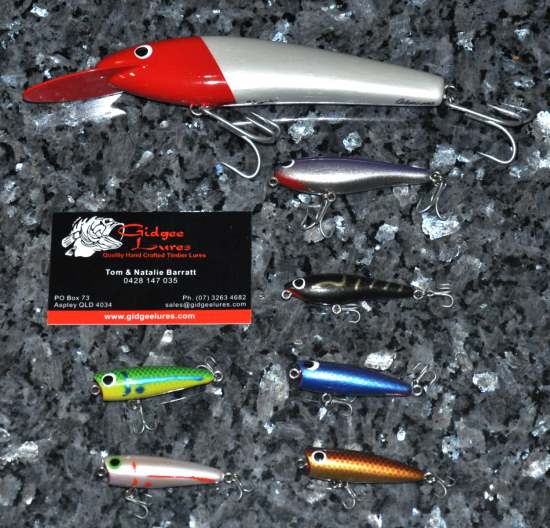 The full range at present is below, details on the Gidgee website link below.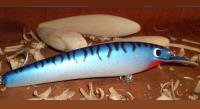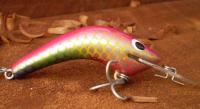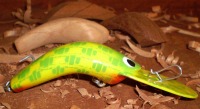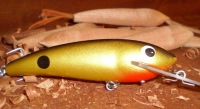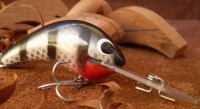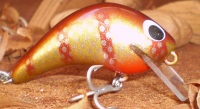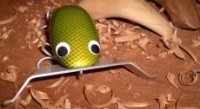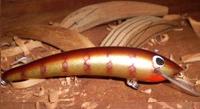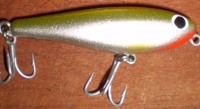 Please go to Gidgee Lures very informative Website for sales information.