Unique Aussie
Lures


Ultimate Australian Fishing Lure Forum - LureLovers.com
Timber King Lures
by
Nando
My personal Nando lures encompass nudies as well as bright paint jobs , ranging from his traditional square cut metal bib types, to the round polycarbonate type created in the style of the bubblemakers , straight minnows and the undercut boomarang.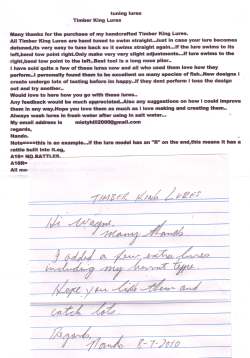 He is the consumate, low volume wooden lure maker and quiet high achiever who hails from far North Queensland.
The primary features of his barra lures, apart from beauty, is that of great strength.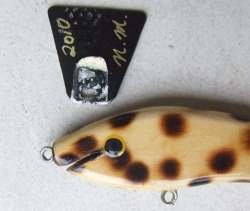 Was a rainy day today so i thought to smash more of my lures.
I was quite surprised.

This is a new "epoxy" sort of glue im trialling (custom made)..
As photos shows, i snapped an 85lb mono line trying to pull the bibs out..Second try was using a 100lb mono and eventually pulled out on both lures.These are non pinned lures..
Other photos (tow points built into lure body) show bibs pulled out of the lures.To do this i had to tighten the bench vice onto the bibs and wiggled side to side quite a few times using a lot of muscle. Eventually pulled out.
Both the design and quality control process is always evolving with Nando's "Timber King" lures !
Check out his unique bubble maker, right hand side first picture, reputed to take barra when live bait wont!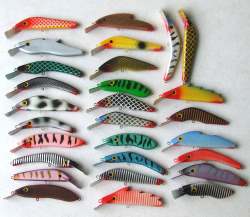 Each lure is made by hand (one at a time) without the aid of any machines and each lure is my very own design. All lures i designed will swim at very low speeds when casting and retrieving and will also swim well at higher speeds when trolling with the added bonus of having less drag due to their design..a big plus in my books. I make lures with and without rattles inside and this will be stated when i list them. Any lure design can be made with or without rattles.

The paints used along with the clear coats is the best money can buy and all lures are 100% water proof.

They all swim with spot on actions and they all float and are made strong to handle huge barra encountered up the Top End where I go several times a year testing my lures. Each new design is tested over and over and wont be released till they pass. If they fail I scrap them. My lures have taken lots of different species of fish.

Tossed out lots of designs that didn't quite make it up to my expectations and standards.
With each design I put in lots of testing etc before I'm happy with it, therefore my standards are very high.

Top quality hooks are used on all lures...Either VMC (MADE IN FRANCE),EAGLE CLAW (MADE IN USA),OR MUSTAD MADE IN FINLAND..I don't skimp on hooks or split rings for that matter. I put lots of love, time and pride in every lure I make...
At the moment I have 40 models. The latest 5 models are deep divers. I tested them in 6 metres of water and got them to touch bottom so i class them as 5 metre + swimmers.
These were tested May 2010 up the top end where the barra loved them amongst other species of fish. Tow points on these lures are on the bib system but it took me over a year to work out the best way to make them tough as i like fail proof lures and don't really fancy tow points on the bib system. Therefore I'm happy with results as they passed with flying colours..Bib materials used for these new lures are alloy and polycarbonate. Could not get any to fail so I cant say which is better.
cheers
Nando