C
u
s
t
o
m
P
a
i
n
t
e
d
Lures
This dream of mine materialized after I met Darcey Menchin on the Australian fishing lure forum LureLovers.com
Darcy was producing some very innovative lures of his own designs in terms of both the wooden materials used as well as finishing approaches employed by him to have his lures stand out from what is commercially available.
Produced in strictly limited quantities, one feels fortunate to have acquired some to both fish and collect.
I asked Darcy if he would be prepared to specially paint otherwise perfect old vintage ABU Plug lures for me.
His first reaction was why would he risk changing perfectly good ABU lures to something other than standard colours.
My answer was, "After a collector has all the plug types , sizes and colours and has doubles to spare, why not?"
So I have now a unique set of wonderfully creatively painted ABU lures, which you can see below.
Modifying or Customizing is a great interest to many ABU collectors, be they ABU rods, reels or lures.
Are these not the wildest looking ABU lures?
Missing is the Rakan Shrimp, please advise if you have a spare to sell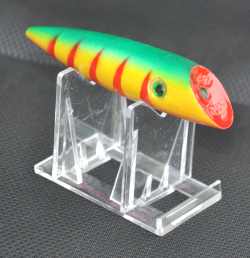 Kynoch
Killer 1st edition Killer 2nd Edition
Snoky small sinking Snoky large floating
Cello Cello Dipp
Hilo 12g Hilo 18g
Hilo 20g (ledad) Hilo 26g
Darcy's dedicated lure page showing more of his wonderful ability is here.