Mencho Lures
by
Darcy Menchin


Ultimate Australian Fishing Lure Forum - LureLovers.com
I met Darcy Menchin on the Australian fishing lure forum LureLovers.com
Darcy was producing some very innovative lures of his own designs in terms of both the wooden materials used as well as finishing approaches employed by him to have his lures stand out from what is commercially available.
Produced in strictly limited quantities, one feels fortunate to have acquired some to both fish and collect.
Here some shots from the workshop, showing marking out of his own design blanks, rough cuts /carving/sanding, followed by the man himself and some partially sprayed ABU plugs.
UPDATE: Now I must include credits toward Darcy's son Jayden who is becoming a very competent and talented lure maker as a teenager.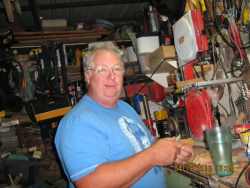 Darcy is a very skilled craftsman with timber and many rare woods are utilized. I particularly like the clear coated lures showing the different styles of lamination from simple parallels to the jigsaw models. This no way at all denigrates his beautiful coloured paint jobs! I have just commissioned him to create a dozen different patterns for my spare ABU plugs.
Things of great beauty and effectiveness in the water.
Look for Darcy's Goanna insigina and identifying details on every lure.
Please contact Darcy Menchin here if these original limited edition lures are of interest to you.
37 Alton Road Raymond Terrace NSW 2324 Australia and home phone is 02 49873653.
E-mail mencho.lures@gmail.com
They creativity continues with Darcy's Crays!
Beautiful batch of Menco's are below. They feature my big python skinned Goanna lure.
I might add this was found dead on the road and (rather than waste it), I skinned and tanned it myself with Lendreiters Tanning Solution
On my request Darcy happily covered one of his big Goanna lures with it.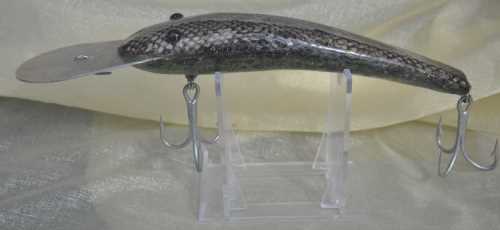 Upon request by Captain Barry Cross, Darcy created the Mackies series of 3 sizes and half a dozen colours.
Holy Mackeral
Mackeral
Micro Mackeral
The fabled Fnuk!
The Barra Cross
Un-christened as yet to my knowledge?
Assorted models sourced from post by fans on Lure lovers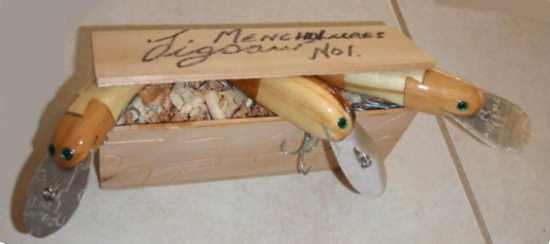 My personal favourite, Jigsaw Horny Toads which I hope to have Darcy make for me some time, the ones (which I own) were made in vertical laminate form as well
Note the fabulous boxes they arrive in!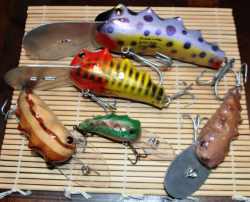 My personal collection of Mencho and Son lures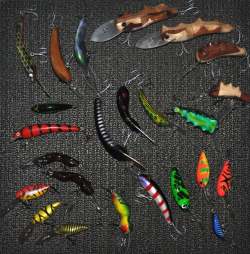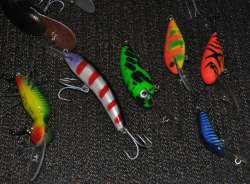 ....And they just keep coming from this fertile mind and deft Darcy hands.
More to follow, hanging out of fish mouths!