Zebco Fans!
ABU's obvious build quality led to the development of symbiotic relationships in other countries, one of which I'm just beginning to learn about now, ie Zebco in the USA. Mr Clinton Beeler is bringing me up to speed on this interesting expansion to ABU's products in the USA. Story links below!
Clint Beeler
Vice President of Manufacturing
Zebco Division, Brunswick Corp.

Contribution by Clinton Beeler

of

Tulsa Oklahoma
I have been fortunate enough to have been taken under the wing of both Clinton Beeler above as well as noted USA spinning reel expert and much aclaimed author of "The Wright Guide for the Reel Man" Ben Wright! I don't think he intends to change of his book from "reel" to "real" in his next edition of the book. Very shortly we will have access to much more information (both text and pictures) with respect to the ABU/Garcia/Zebco relationship in the USA. Buy his book personally from him at Ben Wright [spinrite@rochester.rr.com] before the last 39 of 500 total print run disappear forever. I have secured mine!

Clinton's Contribution
Clinton has recently gifted to me many items of Zebco nature, which I feel so fortunate to now be able to share with you here.
They are a beautiful Zebco Cardinal 3, 4, 7 ; the full set of tan Cardinal 554, 555 and 557 spinning reels as well as some associated spares. Many thanks my friend! Now these can be shared with all who are interested.
He has also given me a copy of the ORCA article by Col Milt Lorens outlined the existence of the Zebco Cardinal 5.
I think the relationship first started in 1952 with two events. One was the introduction of the Ambassadeur 5000 by A.B. Urfabriken and the other was the sale of the Zero Hour Bomb Co. to James Donoghue of Denver Colorado and George Sumers of New York. Their stockbroker was Ralph F. Lafferty who joined the company as eastern sales manager.
In 1954 Mr. Lafferty and R.D. Hull, the inventor of the spin-casting reel, went to the AFTMA (American Fishing Tackle Manufacturing Association) show in Chicago and met Gote and Lennart Borgstrom who were also attending for the first time. They compared their products in private, the Ambassadeur 5000 and the Zebco model 33 both of which are still in production more than fifty years later. A.B. Urfabriken needed a distributor in north america and offered this to Zebco which had to decline because they were so involved in getting their own product off the ground. The people of both companies remained good friends over the years and the Garcia company became exclusive distributor of the Ambassadeur as well as their Mitchell spinning reels made by the Carpano Pons Co. in France.
In 1966 Lennart Borgstrom visited Zebco with two new reels, the Cardinals 66 and 77. Garcia was unable to distribute the reels because of contractual obligations with Mitchell. Mr. Borgstrom had obtained permission from Tom Lenk, president of Garcia, to find another distributor.
For Zebco this was a golden opportunity. While Zebco had always made a quality product, they had great difficulty overcoming the attitude of fishing professionals that these were not reels for the serious fisherman. Also, the company's line of spinning reels (acquired from Langley) was clearly not as high quality as the Cardinals.
The first reels had the "ABU-SVANGSTA" badge replaced with one that said "ZEBCO BY ABU" which took full advantage of the fine marketing work that Garcia had done over the years with the other ABU products. Tom Lenk was offended by this and so, to ease friction between ABU and Garcia, the badge was changed to say "ZEBCO CARDINAL. By the time the badge was changed Zebco had already had the benefit of the association.
The quality of the Cardinal reels was such that when Zebco decided to come out with a line of spinning reels in the mid '70s (the 900 series) it was aimed at the mid-level market. Their internal documentation regards the Cardinals as "Our flagship line". By the early 1980s the line was phased out and Zebco no longer distributed ABU reels. The relationship between Zebco and ABU marked the first time that Zebco had ever sold a reel which they had not themselves made and for the company it was clearly a turning point. While quality had always been paramount it could be found in Sweden as well.

Ben's Contribution
| | |
| --- | --- |
| An interesting example of marketing the Zebco Cardinals was the production of the Salesman samples with their clear sideplates to show off the beautiful aimple and effective mechanism inside. | Here we see the Zebco 4 and 6 samples. |
| | |
Here is a pic of the diff handle knobs for the 6-7-6x and 7x.
from left to right
left ---- small trapezoidal type circa 1967 to approx 1976

middle-- large torpedo type introduced in 1970 for the model 7 later used on both 6 and 7

right---- large rectangular used on the 6x and 7x circa 1977 to 1983

note that like the spools all of the handle knobs are interchangeable on all reels.
The following ABU Cardinal reels were sold by ZEBCO in the U.S. and Canada:

Here is a pic of the different spools that were made by ABU for Zebco
From left to right left is the first version with small nipple type push button circa 1967 to 1974

Middle- second version with larger round flatter type push button circa approx late 1974 to 1976

Right---- 3rd version same as second only now has white lettering and numbers for line size and capacity circa 1977 to 1983
NOTE that all spools are interchangeable on all reels.

Cardinal 6X 1977-1983 same as Cardinal 6 (except spool size)
Cardinal 7X 1977-1983 same as Cardinal 7 (except spool size)
Cardinal 156 1978-1980 No examples found of this fly reel to date
Cardinal 178 1978-1980 I have recently found and bought an example of this fly reel.
Note that the "X" denotes a higher gear ratio and that the 156 and 178 were marketed elsewhere as the "Diplomat" fly reels. The 500 series were marketed by Garcia as the 54, 55, and 57.
| | |
| --- | --- |
| | Zebco "Cardinal" 178 to come, courtesy of my mate ABUBO! |
A Great acknowledgement to a classic continues to live on.
Check out these American made copies of the ABU 44 and Zebco 4
I have recently bought the second of the two reproductions ie American Classic IV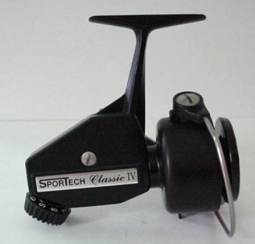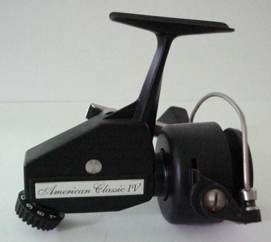 Did you ever hear about these? An American copy of the Abu 44 and Zebco 4.
They were made in the USA by American Classic Sales LLC Salt Lake City, Ut 84104
Very rare first version called Sportex Classic 1V circa 1996
Second version called American Classic 1V circa 1997 to present time

They only make about 50 per year. These have an alum spool not plastic.
For some reason they changed the name of the reel after the first year. I guess they are manufactured under licence with approval?? Is this so Ben?