Collectors
Lures.
A work in progress which all will appreciate I'm sure!
Many thanks to Mike, Derrik, Rob, Henrik, Hans, Steen, Uffe and others in the future
Record ABU Lures by the Decade 40's, 50's, 60's, 70's, 80's
ABU-Spinnaren (and it's many variations)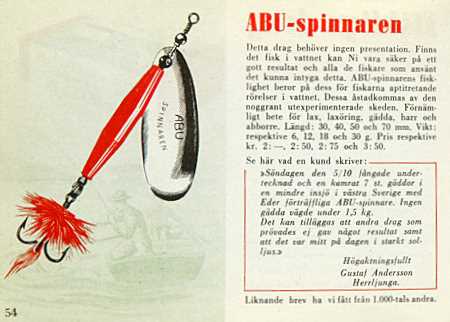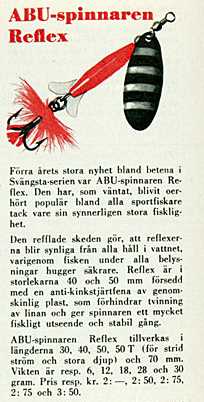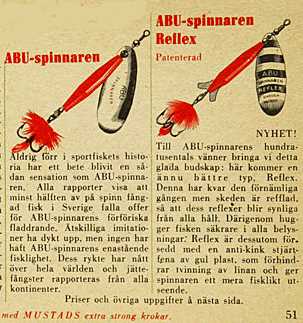 Without doubt, the famous ABU-Spinnaren spinning lure in all its variations must be the biggest range of an individual lure type that A.B.Ufabriken ever made.
A mere (but representative) sample can only be shown here.
Note the original naming of the Reflex, it was ABU-spinnaren Reflex, denoting it, in my opinion, as a variation of the ABU-spinnaren, rather than a distinctly different lure. Hence later I have included Mike Elsworth's superb treatise on the very rare Reflex in SL, in this decade of ABU-Spinnaren's despite it being made later in the 50's.
The ABU-spinnaren also evolved over almost 4 decades but all variations, through 50's , 60's and 70's will be discussed here. Depictions of this ground-breaking and famous lure will be shown from throughout the decades, ranging from simple 2 colour drawings to full colour photographs.

As well as paper cartons, plastic boxes with cardboard sleeves were utilized for multiple packs of lures.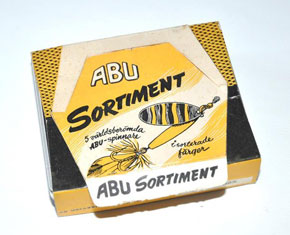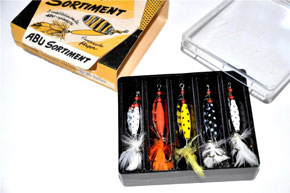 Both esteemed ABU lure book writers concur on these on these dates, sizes etc and are equally perplexed on some dates. It seems it is easier to find the lures than the production/sale date.
All were, throughout their issues, made in 7 colours S, G, K, Z, Cr, S/G, S/K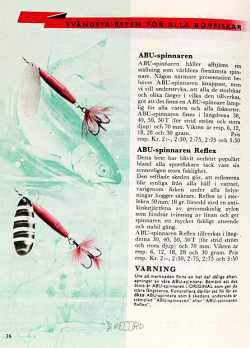 The first red body model appeared in 3 sizes 6g/30mm, 12g/40mm and 18g/50mm in 1945 but it is unsure when these were discontinued.
Next came 30g/70mm model in 1948.
The slightly lighter and much smaller 28g/50mm was released in 1950.
The first English language catalog "Record Fishing Tackle" from 1954 shows the development from original simple red body ABU-spinnaren, to Reflex, Tandem and Variant.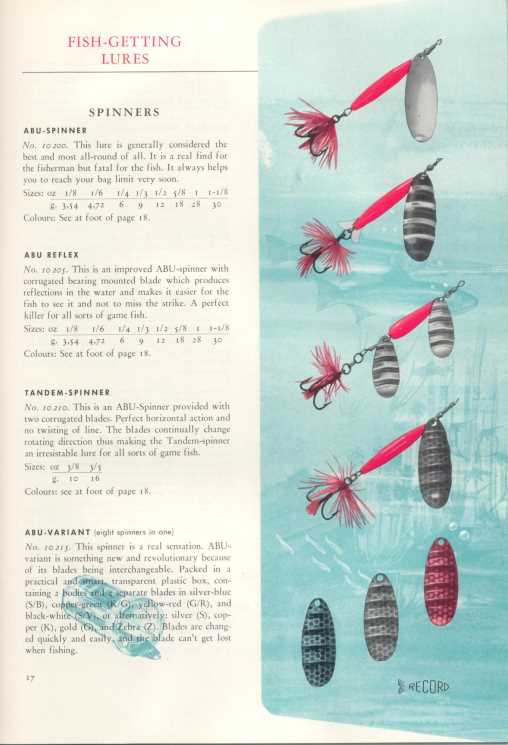 The same size but orange bodied models were released at un undetermined time but it is believed they were discontinued by 1955
The 5 orange bodied models were released in 1955. They were 6g/30mm, 12g/40mm, 18g/50mm, 28g/50mm and 30g/70mm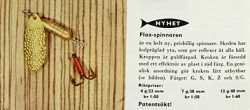 Flax-spinnaren was a dimple bladed lure which were issued in 4g 23mm, 7g 39mm, 12g 40mm size, in S, G, K, Z , S/G . They looked like a brass bullet shape m/messingkugle with hook shaft snooded in red plastic.
ABU Spinnaren (Sweden) were released in 1956; in the following sizes 4g/23mm, 7g/30mm, 12g/40mm, 18g/50mm, 28g/50mm and 30g/70mm sizes
ABU-Spinnaren (Red pearl) followed on in 1957 to 1962 using identical mass/length lures. The exception being , the 28g and 30 g were discontinued in 1960.
The next major variation to the basic ABU Spinnaren design was the anti kink variation.
Still sporting the same colour range , this 1963/1965 issue was offered in 4g/23mm, 7g/30mm, 12g/40mm and 18g/50mm sizes.
Prior to this came the Reflex issue Spinnaren with Gul (yellow) anti-kink vane in 1951. They were in 12g/40mm, 18g/50mm and 28g/50mm sizes.
Klar (Clear) anti-kink vane came in 1952/1955 as 12g/40mm and 18g/50mm sizes only. See Reflex below.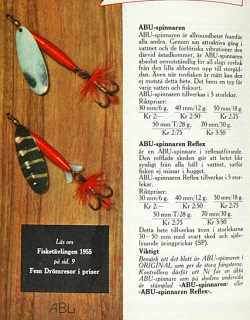 The so named Baby Reflex was also issued in 1952/1955 with 6g/30mm sizing.
A plethora of Reflex were issued m/messingkugle (brass bullet) from 1952/1959: 28g/50mm and 30g/70mm and later in 1956/1959 the following sizes 4g/23mm. 7g/30mm, 12g/40mm, 18g/50mm sizes.
The Spinnaren Reflex m/red perle was issued from 1960 /1962 in the six usual sizes except the 6g Baby size
This was followed by Spinnaren Reflex anti-kink in the widest weight range from 1963/1968 with 4g/23mm, 7g/30mm, 12g/40mm, 18g/50mm and 28g/50mm
The 2g /18mm size was released in 1964/1968 .
The ABU-spinnaren Reflex m/hvide pletter , was also released in 1969 onwards, with 4g/23mm (discontinued in 1982) , 7g/30mm, 9g/35mm (not noted in catalog) , 12g/40mm, 18g/50mm.
The 2g /18mm size was was released in 1969/1979. It has not been determined yet when the others were discontinued.
The casting of these tiny size 2g and 4g spinners would probably been beyond the limits of bait-caster technology of the day, so I suspect these ultra-light 2g spinners were fished with spinning reels.
Two only 7g/30mm, 12g 40mm size ABU-spinnaren Reflex Hvid krop (white body)/antikink lures were released from 1961/1969
Two only 7g/30mm, 12g 40mm size ABU-spinnaren Reflex Hvid krop (white body) (no fins) were released from 1970/1977 for the smaller 7g model and 1970/1976
Two only 7g/30mm, 12g 40mm size ABU-spinnaren Reflex Sort krop/ (black body) were released from 1968/1977 for the smaller 7g model and 1968/1976
Two only 7g/30mm, 12g 40mm size ABU-spinnaren Reflex -fly were released from 1980/1982. These were only ever produced in Silver.
Mike Elsworth has just identified the bottom Luminous spotted Reflex SL as one he gave me some years ago, without me realized its significance.
Three only 7g , 12g , 18g size ABU-spinnaren Vass were released from 1959/1969 except for the largest which was discontinued in 1966
Two only 7g, 12g size ABU Reflex Vass were released from 1970/1975
Two only 7g, 12g size ABU Reflex Vass Hvide -pletter (white spots) were released for a very short period from 1976/1977. The blades on these lures were only ever produced in S, G, K and Z
The third Reflex spinnaren (Yellow) is actually one of the Variant type *changeable blade system, note the spring arrangement.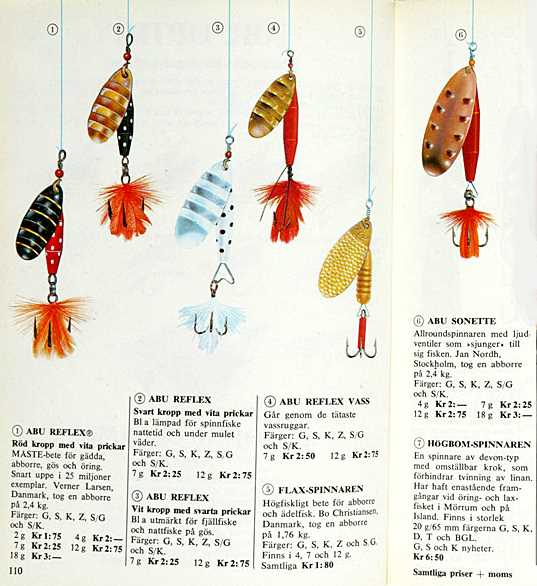 The list continues and will be added to when advised of more conformation of dates being discovered.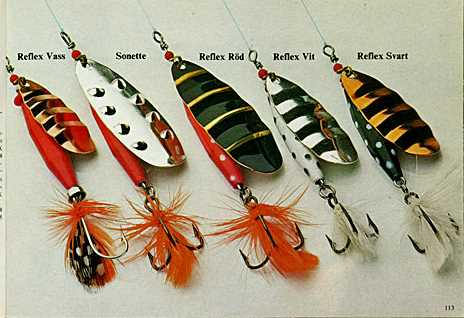 Note these last catalog pages from 1980 /1981 show the Spinnaren/Reflex as having lost their personal and individual identity, being grouped with other lures types. This approach was taken with grouping all plug type together also. A sign of things to come when lures production is moved to the far East and the old approach of allowing individual lures a whole page each! A shame and lost of dignity for classic lures I think, well worthy of their individuality.
Rare ABU Reflex in SL (Courtesy of Mike Elsworth)
The Abu Reflex spinner is far from being a rare bait. In terms of quantity it is probably the best selling item ever produced by Abu!

Throughout its long history some interesting versions were made, I particularly like the first version with its neat little tail fins. I also like the fish-scale patterns that were sold in America in the 1960s. However the rarest Reflex ever made was a luminous version that was pulled from production before it made any Abu or Garcia catalogue, it is the colour SL. SL is short for självysande (which literally translates as "self lighting). Abu dabbled with luminous baits on a number of occasions, just think of the Hi-Lo in Lys for example.

Because the SL was not published in catalogues it does not mean that we cannot date it. The lack of tail fins means that it is post 1955. The brass coloured beads means that it is pre 1960 (when the beads were changed to red). I am aware that some collectors think that the lure was made in 1957 and I have no reason to disagree with that.

The lure in the picture is totally mint in its box. You can see that it is the 12 g /40 mm version but I did find one in 18 g / 50 mm and I am sure that there were plans to make them in all of the standard sizes.

Unlike the Swedish version of the Zebra colour the SL is black on the reverse of the blade (some Zebra lures sold in America are also black on the reverse side). The front of the blade has 9 luminous spots in a deliberate pattern Which is not dissimilar to a certain French lure. However it is strikingly similar to one of the Myr Spinners (see pic).

The Myr Spinner was produced by Paul Johannson of Pauls Sportsdepot, Simlångsdalen, Sweden from 1951 onwards. The Myr Spinner is also interesting because it has an interchangeable blade system, similar to the Abu Variant. However Paul Johansson had been granted a patent on his lure patterns by the Swedish Royal Patent and Registration Department.

Could this be the reason that the production and marketing of the Reflex in SL was dropped ? I suspect so. Of the four examples that I have found only one was in Sweden and it was well used, it was probably an employees "perk". The others I found in the U.K. and America which is where I believe the stocks were sold off.

I have no idea of the value of this lure to collectors, I did not pay much for the ones which I had simply because the sellers did not know what they were. With a bit of luck my story changed that !

Cheers, Mike.
Back
to
Record ABU Lures by the Decade 40's, 50's, 60's, 70's, 80's
I am attempting here to create (with the help of others), the greatest collection of illustrated information about Record ABU lures ever collected together and freely available for all to learn from. Obviously image copyright for alternative publishing purposes always remains with the owners.
Please feel your input, help , criticism is very welcome and I look forward to expanding with network of Record ABU lure collectors and appreciators.
Contact me here to assist.
If you have any other lures, that are un-needed or doubles in your collection and are available for swapping or a reasonable fee, I would be very pleased to hear from you.