" www.realsreels.com " Website Designer
VALE: Fintan Real RIP mate!

We lost our dear son and brother to Declan, Fintan Real, in the early hours of the morning of 27th February, 2016
He choose to leave us, just with a worn out heart, in no pain and quietly slipping away in his sleep as he always wanted, and as all of us would wish for ourselves. He always said, he never wanted to be "a head on a bed" , connected to wires and machines in a hospital bed.
It still leaves us with heaviness in our hearts and enduring dispair knowing now he is with us only in our thoughts and prayers. Some relief is present, in believing Fintan is now caring for us!

Contending with muscular dystrophy for all of his life, he coped admirably and helped us cope all the better too!

Fintan's eulogy delivered by brother Declan and myself can be read here by scrolling down to family section.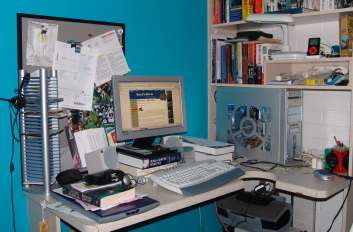 Fintan has taken on board many hours of instructions and sometimes had to fathom vague ideas from me about how this site should look and feel but largely he has been let run with it to create , modify, cut and paste code for the cascading style sheets, photo-shopping the images that I have captured as well as establishing the FTP uploading process. Not to mention the endless "How do I ....?" questions I fire at him when I am doing the mere hack work of adding the textual data and images and of course coming up with the new brilliant extensions to the site in future!

Great reviews of the site to date and I have been asking Fintan to take on board suggested changes as they are put forward. I think we will be going to a .net (dot net) format soon to make templates easier. Some subtle graphical changes will appear.

Needless to say , he has achieved a lot, considering the hand he has been dealt in the lottery of life. Fintan is my 32 year old son who has Duschene Muscular Dystrophy, and used to love fishing when he could hold a rod. Now he enjoys it through me and usually is awake at the wee hours of the morning when I depart on a fishing trip. We now help him eat as well as all the other usual personal tasks but I'd be lost without him. He cuts pretty good computer code now and wields a mean Photoshop paintbrush I recon. Long may he keep keeping on! We can learn lots from his quiet achievements in life. A dyed in the wool Cronulla Sharks Rugby Leagues supporter, his team is yet to win their first premiership! 2008 sees them presently 3rd on the Premiership ladder!

STOPPRESS
The Cronulla Sharks won the 2016 NRL Premiership with the help of Fintan being the "unseen" extra man, running, passing, kicking at last!


Fintan has recently lost his companion dog to a savage attack on our local beach..
Sheba's Life