As a Real, I

was really born to fish, (no pun intended) with Grandparents and parents well experienced and keen to share knowledge. Fishing and crabbing came early to me. So.... in 1958, for my 5th birthday, my most treasured possession was a 6 foot split cane rod and a 4 inch bakelite Alvey reel. The years passed gaining experience and moving through a succession of rods and reels, including Rangoon monster whole

bamboo

cane rods, cheap and built at home . Eventually, as a teenager, a 12 foot sloppy 3 piece Slazenger solid fibreglass became the weapon of choice.
The rest is my ABU history documented elsewhere.




Technically my mental ABU collection started in the 1967 when I first developed an awareness of the ABU brand name via the purchase of ABU lures. As a teenager, with scant resources paying out a whole fortnight's pocket money to buy just one Black and silver ABU Killer (like the Henry Ford choice) or a luminous 3 inch ABU Hilo, taught one to cast carefully, use fairly heavy line and be prepared to swim and retrieve in order to be able to afford to fish these imported baits. Reels for me were still Alvey sidecast or Mitchell Spinning reels.
My first real mate was Rod Swan, from kindergarden days, primary and even secondary school despite different schools, and it was inevitable that we were know as Rod'nReal due to our common interest as we grew older. Lins and Art, along with John Devine and I were and are mates from schooldays.

At this stage, I had never heard of, let alone seen a multiplier/casting reel or for that matter an ABU reel in the few sports stores in my small town of Rockhampton. When I graduated high school and headed off to the big smoke of Brisbane and Kelvin Grove Teacher's College, I had the opportunity to become more exposed to the big city brands. ABU 5000/6000's were my dream!



Being a poor student whose summer time holiday jobs funded book purchases for the next semester and year, I could never consider purchasing one of these Ambassadeur dream machines. I was not corrupted by similar cheaper copies from Japan! I went without until , instead of having a big party fro my 21st birthday, I requested my parents to present me with an ABU 6000C. I'm not sure whether my Mother could see or appreciate its value but there was no doubt in the my mind about its lusterous black shine and silky smooth mechanism.





I have never looked back when it came to choice of fishing tackle. 1976 saw me in London with mate Lindsay doing the usual Aussie fella thing of buying a Volkswagen van outside Australia House and touring Europe.

My collection really got a move on in London, with the purchase of a red ABU 7000 (was there any other colour?) , an ABU Diplomat 662 and an Atlantic 484. So with the existing 6000C from my 21st birthday, two matched outfits were at last in my armoury! The ABU 6000C Ambassadeur and the Jack Erskine/Fenwick Carbon Blank modified Diplomat 662 (still in use 35 years on) rod is below with my Dad and kids

I never could convince Lins to move away from his Mitchell for 30 years, however now he has added a Soron to his armoury.... but I haven't given up yet. My other fishing schoolmate Arthur was much easier as he now has 3 Ambassadeurs. .


My current fishing gear is mainly ABU, but I still have my old Australian made Alvey sidecast reels hanging up in the garage

I have become good friends with Paolo who owns Everol in Italy (his Dad designed and made the ABU Admiral IGFA reels) and he has made me 2 wonderful reels, a J12 jigger prototype which is now in production and a Gold Saltwater fly reel which is unique.

The gear is grouped into land-based fishing, (river, creel, lake, estuary wading) as well as boat rods stored in the boat shed. There is some overlap with baitcasters and light spinning outfits.
The Mary Rose
My father and grandfather's 22 foot carvel hulled dory, moored at Figtree Creek Yeppoon circa 1954.
15hp Simplex, magneto ignition diesel, reaching 6knts, it pried the inside Keppel group only.
This was my first boating experience and I whilst I don't remember this journey, some 4 years later, I recall boarding the 'Mary Rose' via a rickertty jetty at Gas-works Flats adjacent to Fitzroy River Rockhampton.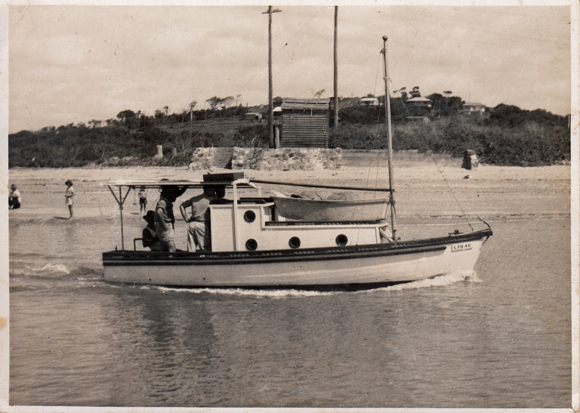 First barra in 1965 Fitzroy River and later in 1974 at Ogmore, first teaching post
The next 30 or so of years passed in what seemed a flash! Squeezing in family life, travel, education career, fishing, life became more turbo-charged after I met my future wife off the coast of Africa on the Cruise Liner "Australis" in 1977 and married Anne in 1978. (She does not want to appear here)

My interests beyond fishing (and other than my work as a supply primary school teacher. I retired today 27/01/2009 from full time teaching). My interests are many and varied and include travel, gardening, photography, eating/cooking, wine tasting and swallowing, home theatre/cinema and shooting.
My two sons Fintan and Declan arrived in 81 and 84.
With Anne being from Ireland, we had trips to the green Isle every 2/3 years to visit family and friends.
Raising the two boys saw its challenges like many families face, but rewards were more than worth it.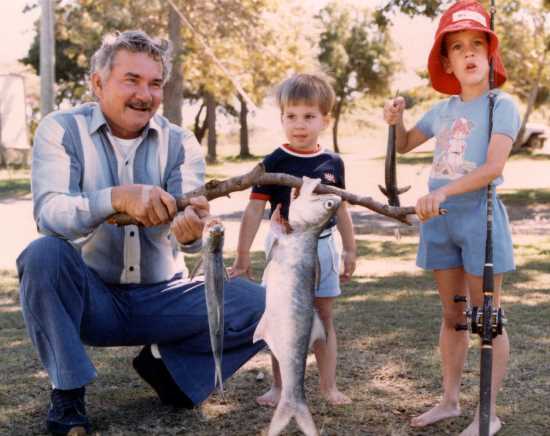 Both have reached their potential, (be it personal development, educational and/or sporting achievements), to far higher level than any parent has the right to hope for their children.
Fintan has Duschenne Muscular Dystrophy, needs a lot of physical assistance, not the least of which is his electric wheelchair and respirator but completed his studies for his B.It . He is still in full time employment as web administrator at www.cqu.edu.au
The outside Fin "in the sun, on his granite, with constant companion and ever-present Gracie"
The Fin and Gracie inside "footy watching Sharks fans and this time with Rasta cap instead of Sharks Jersey, although Gracie is supporting"
Fintan's wheelchair accessible front garden, view from where he would direct operations, advising placement of palms, cycads, desert roses etc. Schuey his Burmese cat and Sheba his first little Griffin dog rest here

VALE : Fintan Colm Real, 11.3.81, almost 35 years, passed away peacefully in his sleep early hours of 27.2.2016. "No longer with any load to carry and caring for us now"
My son Declan immediately penned these words to share here as I don't don't have personal FaceBook profile

More updates to follow in time

Hi all,
I've never been a fan of group FB posts and putting myself out there to the world on private matters. However given recent occurrences I feel the need to write a small tribute in honour of an incredible human being.

My brother Fintan passed away on early hours of Saturday morning. After working a full day on Friday he unexpectedly passed during the night. Unfortunately it was 6 days after the birth of my daughter, (his new niece) who he was due to meet tomorrow which made the shock even worse and harder to swallow. I selfishly wanted Fintan around for a few more years so my kids to get to know and love him in-person, but life isn't always fair.

Fintan touched the lives of many and most people that know me know, or are at least aware of Fintan. He was the type of guy that I never heard a bad word spoken about. The type of bloke who loved his Cronulla Sharks (despite their consistent shit-house performance) and his motor sports. He didn't mind having a laugh, even at himself. Thank Christ for my dad instilling a dark sense of humour into both of us. Without it, life at times would have been just all too depressing!

Fintan achieved a hell of a lot in his life despite the rough cards he was dealt. Hurdles that would break any average person - Fintan overcame with flying colours. He attended regular schools (despite his physical disability), won awards and scholarships, gained a tertiary education and worked contentiously at his white collar job up until his last day.

All of this wouldn't have been possible without the loving care and commitment that my parents provided to him during his 35 years. Having a physically disabled son requires the type of constant and intense care that isn't possible without a tremendous amount of personal sacrifice. Fintan wouldn't have had the life he had if it wasn't for my mum & dad and I love them for it!!!

Special thanks to my wife Sarah, who has been my rock during this time.

A lot of tears have been shed already and there are a lot more to come. In many ways Fintan was like my polar opposite, but I'm so glad to have known him and I'm proud to call him my bro.

Love you always Fin!!!

Dec.
Fintan was a keen virtual gardener, this is his section of the garden, created with his ideas and my sweat!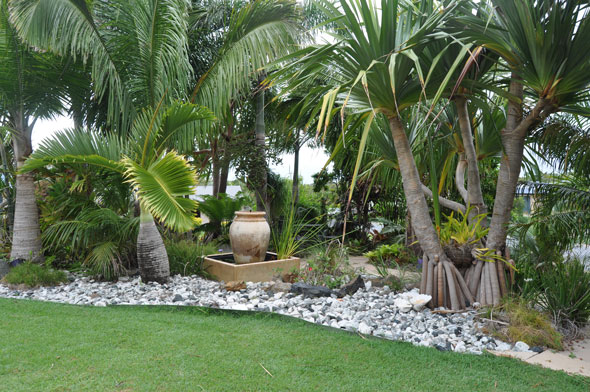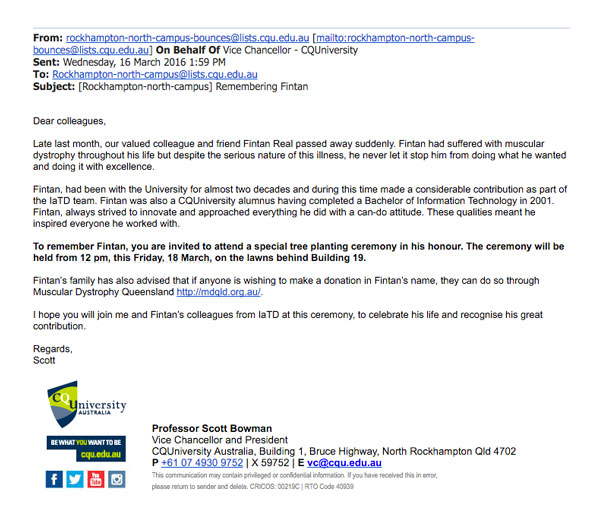 The memorial event at Central Queensland University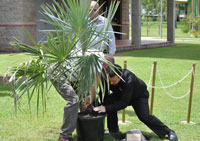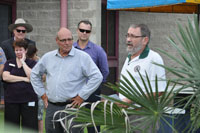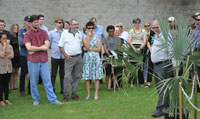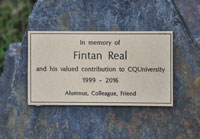 Fintan, working from home on a Wednesday, with help from Gracie.
Now, Declan our younger son, completed his B.Bus studies at CQU , including a 12 month sojourn after 2nd year uni to pursue travels as well as a camp school role in USA . Declan, met the woman of his dreams six years ago, and has now married Sarah on June 23, 2012.
Sarah gave birth to their first child, Fintan's first nephew and our first grandchild, Jackson Fintan Real at 12:02 Saturday 8th March in Brisbane. All well and some photos are below. Baby Jackson, has parents, 4 Grandparents, 5 great grandparents , 2 uncles (Fintan and Anthony) and an Aunt Clare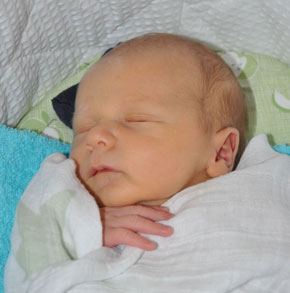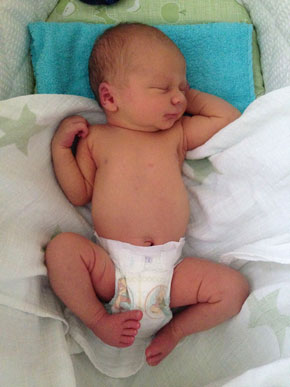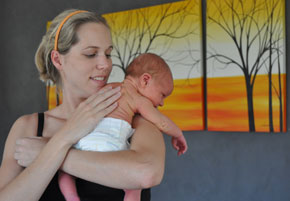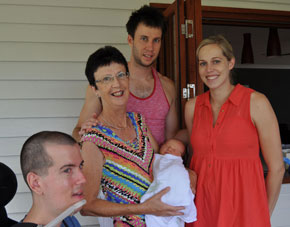 Baby Madelyn Jane Real 8lb 4oz arrived safely on 21.02.2016 just before our untimely loss of our son and brother Fintan 6 days later.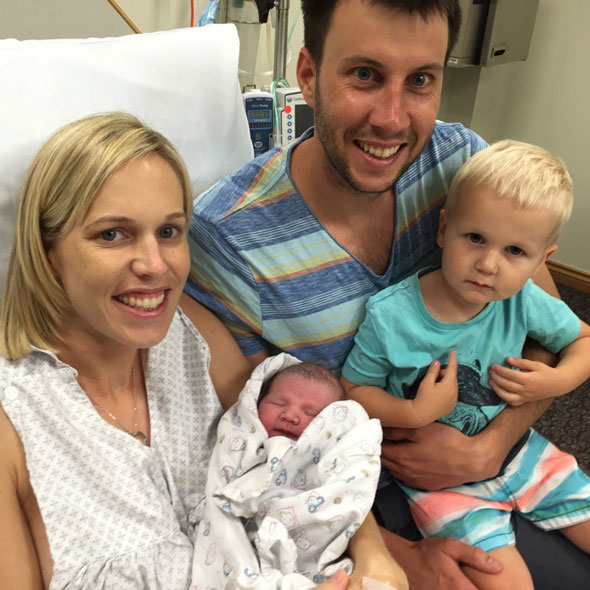 If you are at all concerned about your health and lifestyle and the impact Diet and Nutrition has upon you, perhaps you might like to visit Sarah Real's Nurturing Nutrition website.
Fishing with mate Arthur , who returned home after an RAAF career, for many years was always estuary or rocky headland based based. We bought our first boat 15 years ago. This was a 4.75m Millenium-hulled Quintrex Bayhunter Caprice powered by a 50HP Honda 4 stroke engine.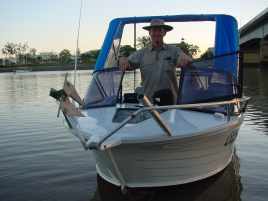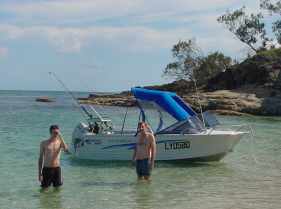 The last fishing boat and long time dream for my mates Art , Lins and myself and other fishing mates to enjoy , is the well named Ambassadeur Arvor 20 .
Here seen around the Keppels, and very comfortable for my Dad to sleep on the return journey.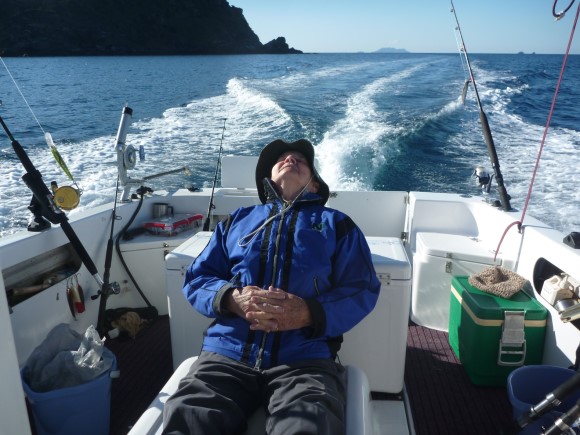 Declan is happy to fish both above and below the water. A nice Yellowtail Kingfish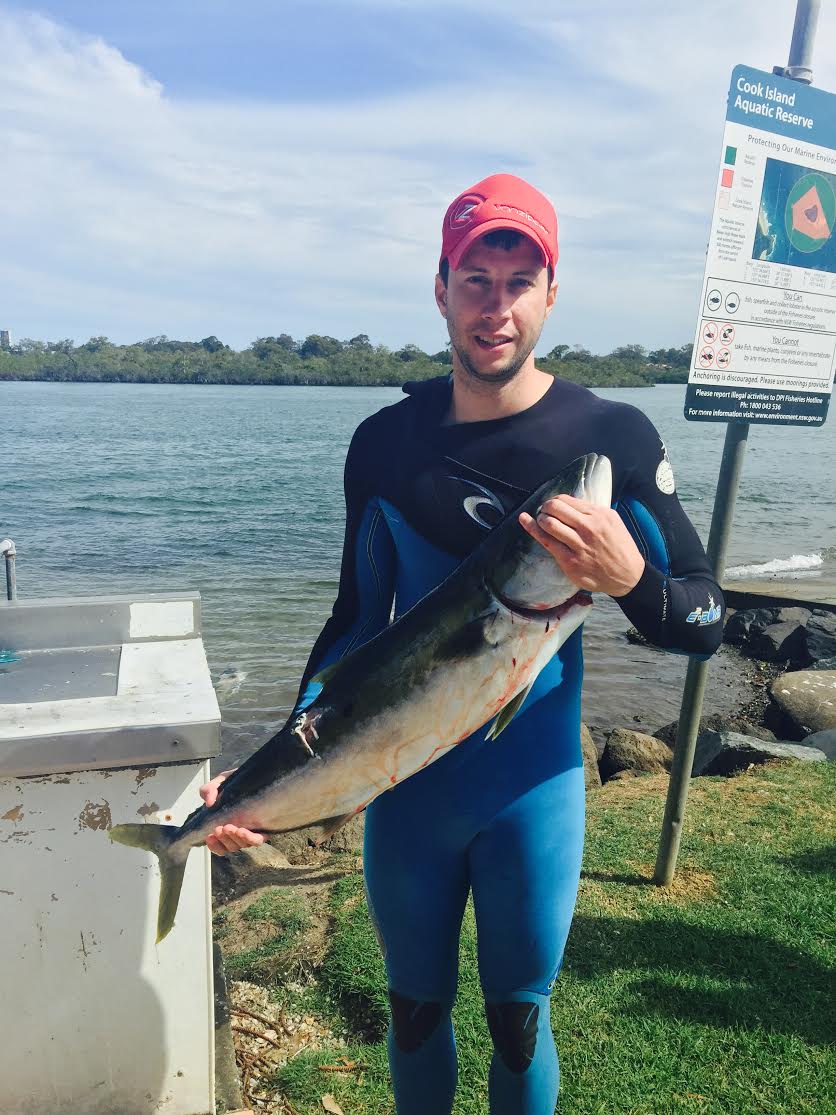 Importantly an interest in fishing was passed to both Fintan and Declan and Sarah and somehow I feel Sarah will enjoy the sport too .
Travel to many continents ensued, Europe, Asia and USA not to mention smaller out of the way places like PNG and my "See it before you die" holiday on Lorde Howe Island and Norfolk Island.
Cruising to Alaska, Hawaii, Tahiti, NZ, Asian ports as well as others have been our recent holiday pursuits.
Long time ABU friend Uffe Edefur from Angelholm in Sweden has visited on a 2 yearly basis to fish with best mates Arthur, Lins and I.
The dreams continue, Fishing with Len Borgstrom one day, Fishing in Sweden with Uffe, Meeting Jan and staff at Svangsta, Trout in Tasmania, Snapper/Big Eyes Barwon Banks off Mooloolabah.......
It goes with out saying my passion for all things ABU has continued for over 45 years now.
One of the nicest surprises recently was a Christmas gift from Anita in Sweden, wife of Sture who has sought to help me in my pursuit of ABU. Every feature of her watercolour painting has a special meaning and has been sourced from the website, no doubt with some advice from Sture! This is above my ABU room entrance and will always be treasured.
The painting features our local Keppel Island group, as well as the N&N Sture gifted to me , the Green Record 5000, my RF Gold Award above my favourite baitcasting outfit , a prototype Cello lure and the Qld flag. Not to mention me at the helm!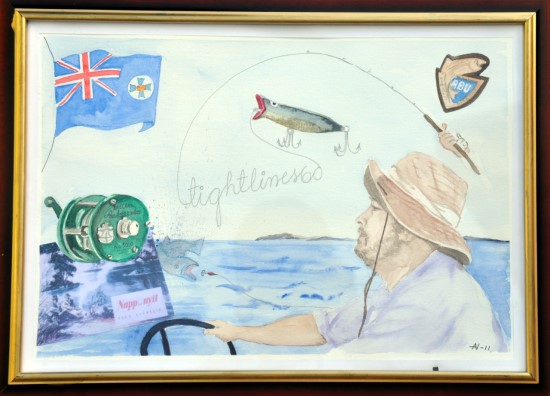 Retirement, the last word could not be said better than from an ABU Tight Lines Catalog article. Read well and savour, the earlier the better, as with luck, this good fortune will befall all us passionate ABU fishos!
Fish, fishing, friendship and quality tackle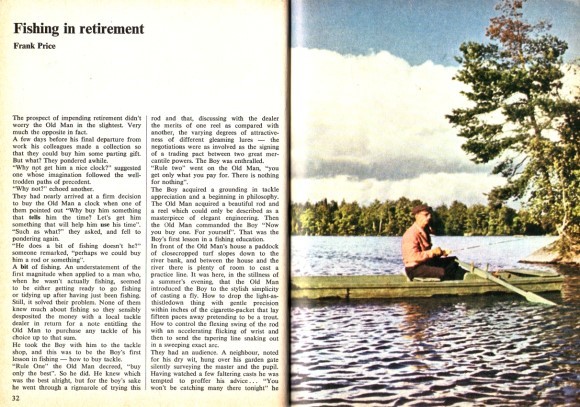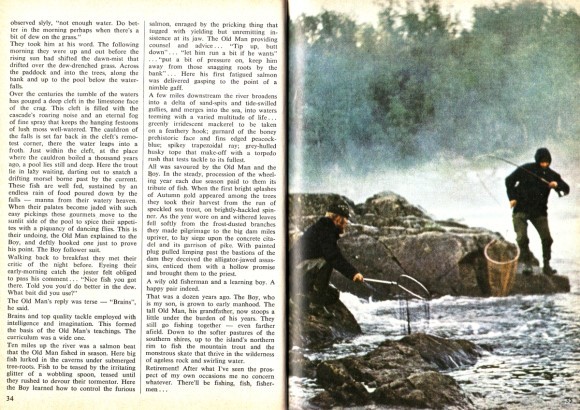 My e-mail address is........ abuadmiral@gmail.com
If you have any ABU equipment other than that listed , that are unneeded or doubles in your collection and are available for a reasonable fee, I would be very pleased to hear from you.