Significant ABU Friends
Lennart Borgstrom (Len) Mr ABU
How does one profile this amazing Man among Fishermen?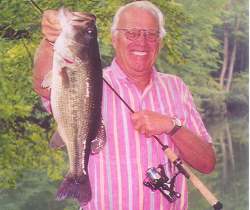 Pictures are reputedly worth a thousand words, so enjoy these and do try to read Len's book mentioned below.
Throughout this website, the references are numerous to his direct and indirect actions affecting A.B.Urfabriken (ABU)'s progress as a world-leading provider of quality fishing tackle. His actions were remarkable, from learning the lure assembly business as a youth, to a young man following in his Father's footsteps when taking on the US market in 1954 with the Ambassadeur, to the time when Gote relinquished control; ABU celebrated its 50 th anniversary in 1971. Len formally became President of ABU in 1971 also.
Father and son, Gote at his beloved Morrum!

Len Borgstom looking over a tray of Ambassadeur reels in the 70's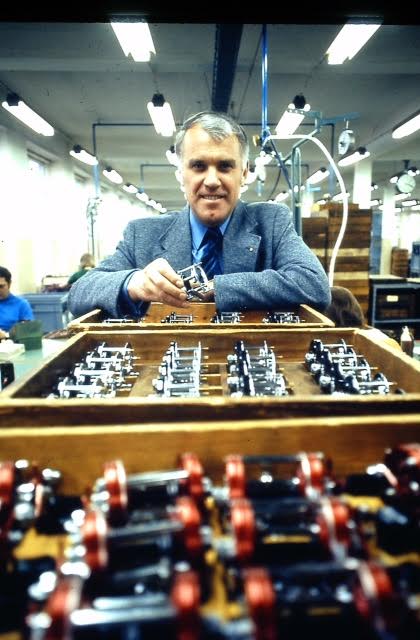 While his grandfather Carl Borgstom had the foresight to take over the original watch-making business initially, and Len's father Gote made so many formative decisions with regard to A.B.Urfabriken, Len was very definitely nurtured in fertile grounds, allowing his innate engineering and management capabilities as well as his monumental personal efforts to come to the fore, making ABU the company that it was from 1954 to 1981. Len's friend Kalle Erik Svensson pays tribute here at Gote's grave on the 100th anniversary of his birth with a beautiful flower Ambassadeur.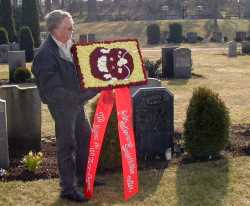 Kalle Erik Svensson at Gote Borgstom's grave.
In my ABU days i had a very important rule. We should never put any product on the market unless I or my father, when he was alive, had personally tested it in practical fishing. After having had numerous meetings with Herbert Henze, owner of Penn, to find a way for us to merge without getting there, I felt that we had to enter this market ourselves. There was never a big game reel made that was all stainless steel. To test the prototype, we went to Australia and I hooked the biggest marlin I have ever seen. This picture shows the the fish coming out of the water. It was lost right by the boat after 45 minutes. Skipper was very upset, while I was very happy to let the fish maybe be caught by somebody else. Skippers estimate at least 700 lbs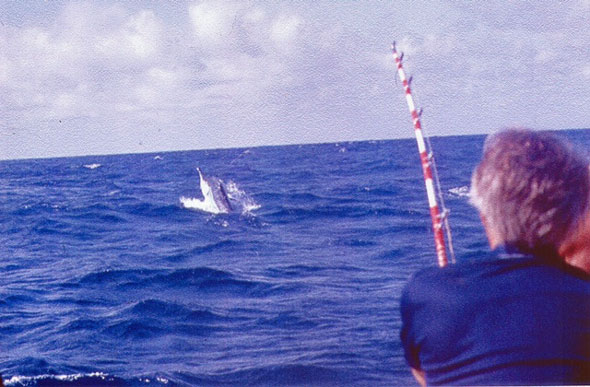 Len
Here is a man many of us ABUphiles would care to emulate in their lives, whether it be his roles in regard to creative leadership , engineering, education , sharing, sponsorship and friendship or simply variety in fishing experiences. His travels are a source of both inspiration and envy for many with his numerous round-the-world fishing experiences seen below.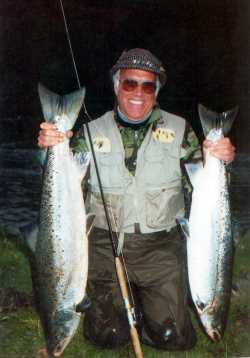 Len fly fishing for Salmon, Laxa Island , Iceland.
Johnny Morris of Bass Pro and Len Heli-fishing the Pacific North West.
Len and Ray Scott (of BASS) in Mexico.
Fly and release only fishing Ponoi River Russia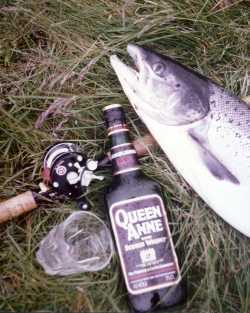 Some of the finest things in life
His life at ABU encompassed so much variety, from the pursuit of technical tackle excellence, to his before-their-time staff management plans, his vision of seeing women and children involved in the future of fishing, the introduction of rewards and encouragement, his interest in environmental fishing issues, the education of all stakeholders, or joining staff and/or invited guests trialing equipment on the banks of the Morrum, as well as being a leading role model exuding his generous sociability, but still willing and capable of standing up for his (ABU's) rights, not to mention his wicked sense of humor.
People on the Go Smoke Camel ! (as it was)

Wayne
I also found another pictures that you might like. As you know I had the pleasure of meeting John Wayne and actually spent a whole week on his boat, The wild goose. He was not on board as you know from my book, but I slept in his cabin all week!
When we met in Cabo San Lucas, we found out that we had one thing in common besides fishing - we both did commercials for Camel cigarettes.
Len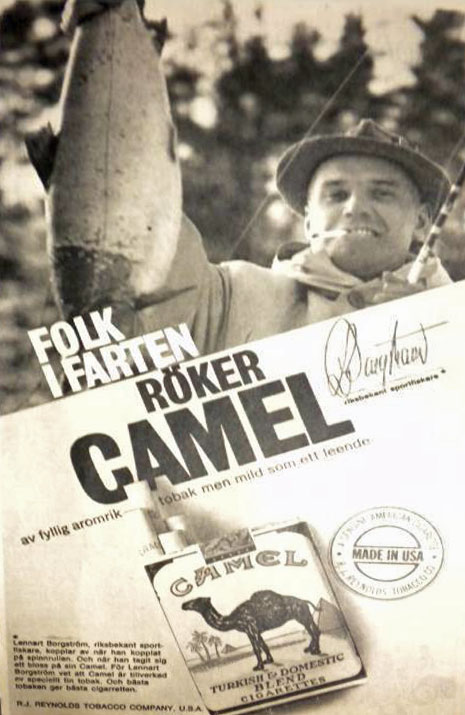 Japanese TV copyrite interview and a funny (but true) yarn!
Today, he is still at the leading edge of innovation in many areas quite unrelated to fishing, through his company Lenco International, some that I have heard whispers of and are not yet public knowledge. He has not lost his true love of fishing, still getting as much enjoyment , from catching a few Bluegills or Bass in his home lake, as doing battle with huge Salmon or the Marlin of yesteryear. Lauded with honours, a recent commendation was his induction in the US Freshwater Fishing Hall Of Fame.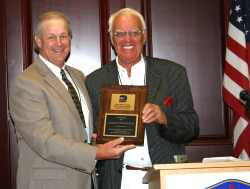 Gary Dollahon, Fresh Water Fishing Hall of Fame Inducting Len in Florida
I am just one example of how Len has assisted many with further ABU education and continuing documentation of the History of ABU in a variety of media. There have been nameless others as well as the high Profile names like Skupien and Shimomura which have been greatly helped. I started my communications with ABU more than 30 years ago and received responses from his staff and senior management like Ralph Lafferty and Tony Perrin. More recently, courtesy of Len, doors opened and I was immediately e-mailing and communicating on a regular basis with other colleagues. Friends Len mentions often in dispatches and I feel I know are Johnny Morris, Lee Perkins, Bengt Olofsson and of course Jan Sjoblom, CO Ericsson, Goran Enocson have been such a great help to me largely due to the introductions. Len's open and friendly nature is greatly admired by many and as he says, ' ...my questions may prompt him to remember and re-live experiences that he may not have documented in his book, ABU and Garcia , What happened? '
Iceland fishing with friends Ralph Lafferty, CO Ericson, Johnny Morris and Len.
Many may not realize the efforts made to promote Art appreciation within and outside ABU. Some art careers have been started at Svangsta, the legacy of which we see in ABU design excellence, be it the beautiful magazine covers or sculptures. Here the bronze reliefs tell the history of sport fishing. These are mounted in the entrance to the factory in Svängsta and were made by Hjalmar Ekberg – at that time a worker at the factory. Two copies were made for Garcia and mounted on their wall at their Teaneck facility in New Jersey and at the Conolon factory. The original plaster models were mounted in Len's party room in the basement of his Svängsta home.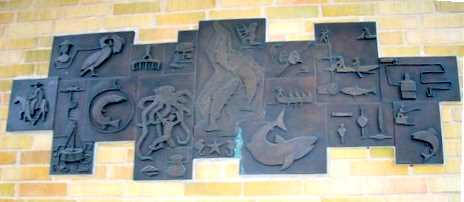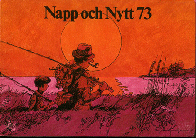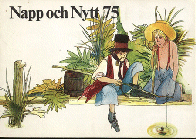 Len has long recognized the value in supporting the education of others. He supports the higher education of a Swedish student each year at the William and Mary College VA. Len has just selected student # 12 from Svängsta who will study at William & Mary University here in Williamsburg. He set up this foundation to give something back to his old home town. W&M is the second oldest university in the US and several presidents and other VIPs have studied here.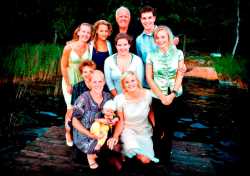 The William and Mary students at 10th anniversary get-together
Len sponsors one student every year for one semester. He pays for tuition and board and as Len lives in Williamsburg they have all become like additional grandchildren. Len encloses a picture taken in Sweden 2005 when they all met to celebrate the 10th anniversary. At that time most of the students were girls. The last since then has only been guys. Two of his scholars are already practicing physicians, one has bachelor's degree in engineering another is a successful journalist a.s.o. To qualify they must have good degrees in the combination of math, science and languages and they must live in Svängsta or have parents working at ABU.

An update from Len to me, on the scholarship details is as follows...


This year we will select our 18th student. Also, this year we had a record number of applicants. Ten! Only one student every year will get the opportunity to study at one of the worlds finest universities, William and Mary here in Williamsburg. All applicants, however, have worked a little extra to try to get this scholarship, so also the students who are not selected will benefit from having worked a little harder to get better grades, whatever further education they choose.
The scholarship is about $25.000 at the present time. As you know, tuition costs keep going up, so I keep donating to my William & Mary Foundation as much as I can every year, hoping that the scholarship will continue long after I have left to fish in that eternal fishing pool.
It should be mentioned that ABU Garcia so far has contributed with about 1/3 of the tuition cost.


Wayne, this is the most rewarding thing I have ever done.

Fond regards!
Len

Blessed with long term friends from all walks of life, Len is recognised and admired by business leaders, royalty as well as the common man. Here he teaches the future Queen of Sweden to cast and later presents His Royal Highness King Carl Gustaf, King of Sweden with the limited edition 50th Anniversary box set of Record 5000 and Morrum reels.
Future (and current) Queen of Sweden and present King of Sweden
Patrik Tjornmark has published this full magazine article "Sagan on Abu" re Len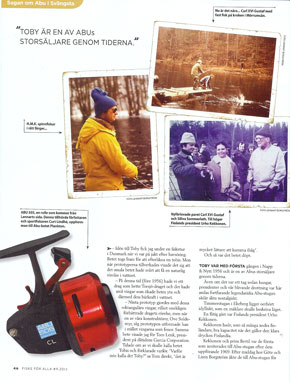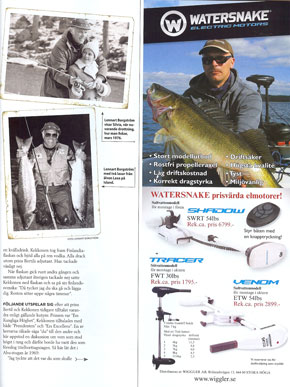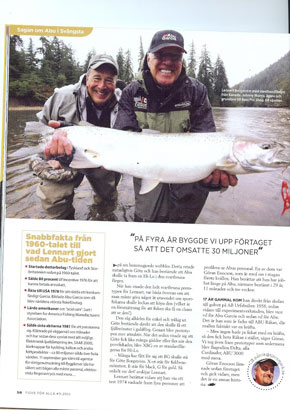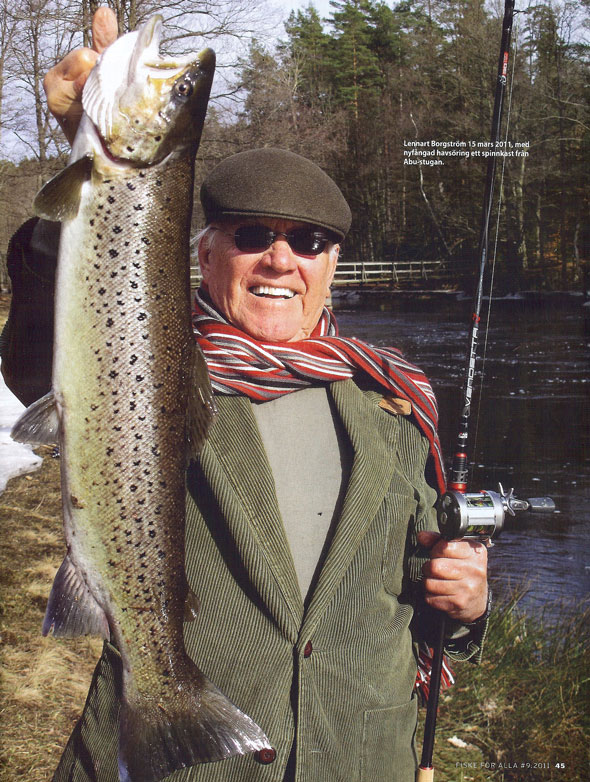 Wayne,

The last picture above you see is with me holding a nice sea run trout has I funny story!
Patrik and his friend Rickard had been fishing all morning without catching anything. I did not fish just to give my guests all the chances.

I had invited Jan Sjöblomj and Olle Lidesjo to join us for lunch. (The tradition has always been Yellow Pea Soup served with a glass of warm Swedish Punch).

One of the Ambassadeur reels my guests used did not perform as well as I should so I was going to show Jan and Olle that it did not cast as well.


We went down to the river so I could show them. I made one cast and I barely managed to cast across the river. BANG! there was a strike and I landed this nice sea trout.
You can see on the picture that I am not dressed for fishing! Jan later checked the reel and found out that there was nothing wrong with the reel. The brakes were just wrong!..
Like many, I can count myself fortunate to have Len as a personal friend, but whom I am yet to meet face to face. He is always available from the other side of the world on a regular basis to answer ABU questions and share something of each of our lives. Glancing around my room amongst the myriad of items of collected ABU related paraphanalia , it is a joy to gaze upon some of Len's own personal treasures from the Golden days of Swedish ABU, such as Books, lures , knives, Record Fisken Gold with Laurel ties and tie pins.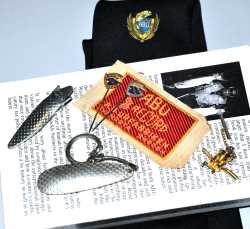 Some of my ABU gems courtesy of Len
If you are a person that has significantly interacted with Len, please contact me wayne@realsreels.com if you wish your contribution documented for posterity and the immediate interest of the ABU fans worldwide!