Rods : ABU Overview
Part 2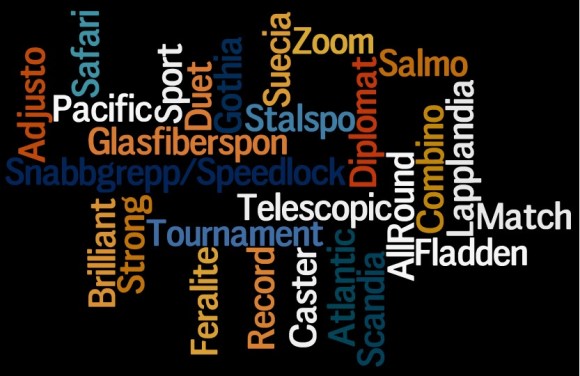 So onto more rods to collect or to fish.........
Make your choice wisely ...read on from this sage Tight lines information
"The Rod for the Job" Part 1 , Part 2, Part 3
No more personal (in hand) piece of equipment than a rod? Part 1, Part 2
Below you will see my favourite Anniversary 1971 catalog depicting a fine range of rods. Click on thumbnails.
Rods are more difficult to handle over long transport distances for warranty purposes but largely I think because Aussies (including myself were inclined to be independent ) were used to building their own reliable rods of quality Fuji components. Only when ABU Speedlock grips, zoom and more improved blanks were seen did we realize the potential of these mighty little baitcasters like the Diplomats!
I just had to have a Diplomat 662! Little did I realize 40 years later I would collect 4 of them.
My friend Steve Wilkinson from UK has shared some of his ABU rod/reel combos here.
My most recent purchases are the ABU Ferrulite Safari Fly rod AFTM 7/8 soon to appear here generously traded to me by Thomas McColgan of the UK.
I have long sought this almost mint condition 5 piece beauty.
Catalog information below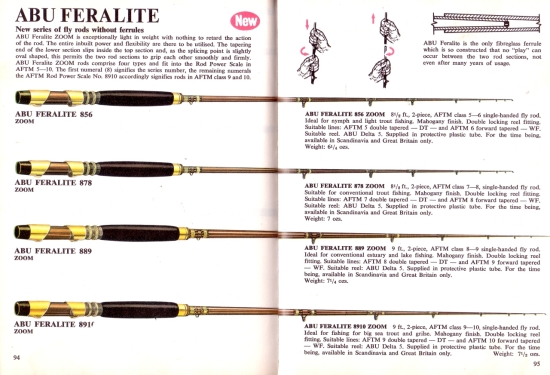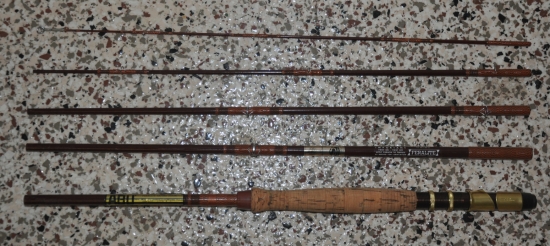 Also this week I met a surprise benefactor by the name of Keith Sayer who wanted his nearly 40 year old very gently used ABU Caster Duet to be in my collection . This is the twin tip model for Type 1 and Type 2 fishing. John told me he left instructions in his will for this rod to eventually come into my possession. However a change of heart and hopefully very good health must have encouraged Keith to think I could not wait this long so it appeared to me last week.
Interestingly, both these rods were first released in 1969, over forty years again when I was studying for my Senior High School exams.
Catalog info here

Pictures of my rod below.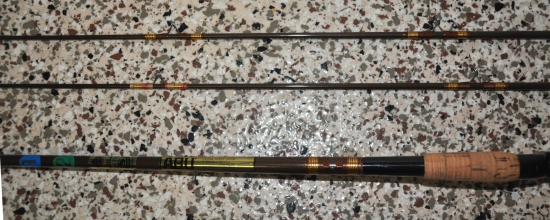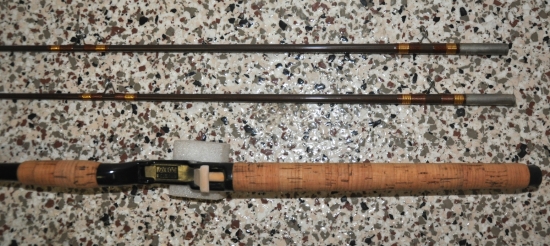 On Uffe's recent trip to fish me me in Australia, he came bearing some 8kg of old ABU/Record rods numbering some 13 items in two big strong rod tubes.
Some are below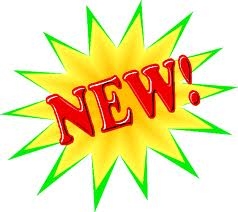 Salmo 5812



ABU 140 and 152


5 More lovely old ABU Record rods from same era are the Adjusto, Tournaments, Sport and Scandia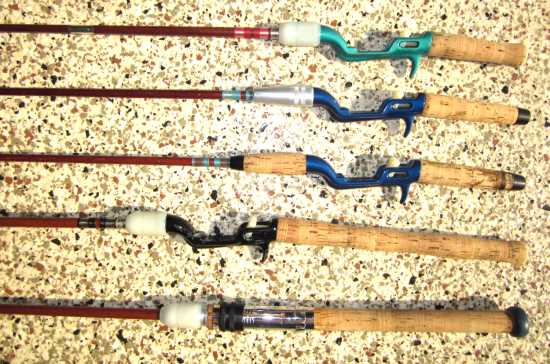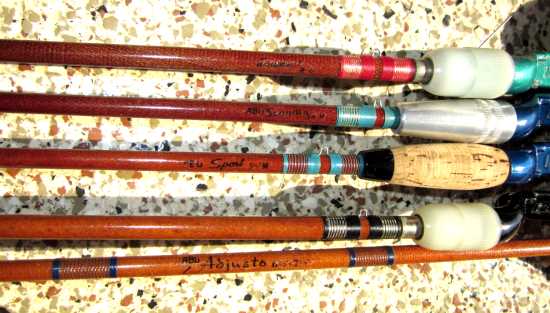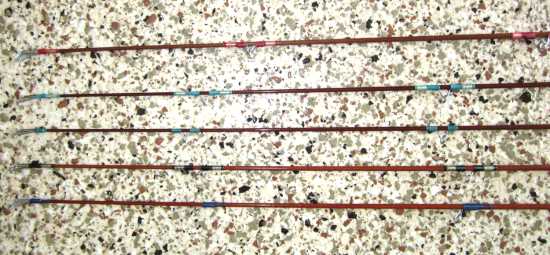 Recent additions to the collection are two early Record rods, viz Record Excellent , Record 60 and Record 165, the latter being a 4 piece travel rod. Both are built utilizing the Speedlock handgrips. Thanks to Uffe for helping bring these rods to my display.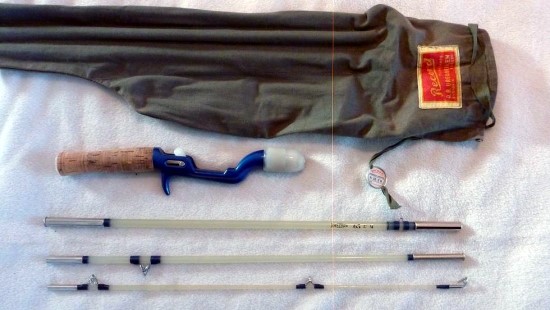 Below a ABU Tournament II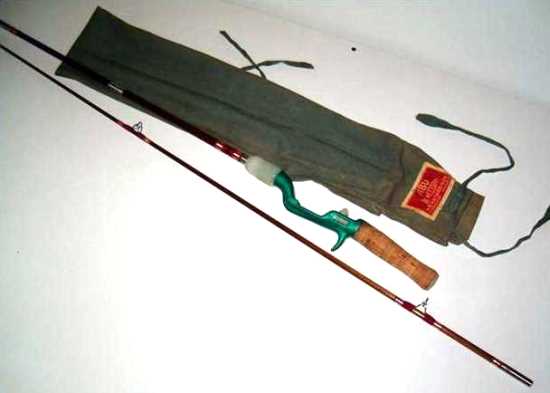 Next an ABU Scandia Robust
2 New ABU rods to my collection in the form of Surflex 343 and Atlantic 460.
Both are 2 piece with Surflex being a 13 foot monster with long casting grip/stainless reel mount and the Atlantic having the trusty Speedlock winch mount. Both employ quality cork grips.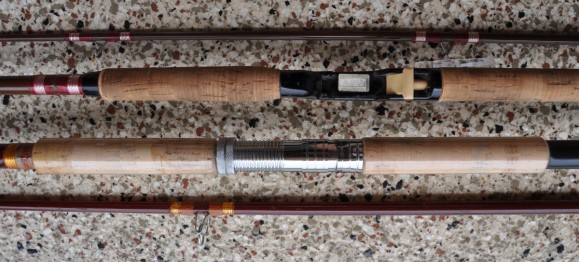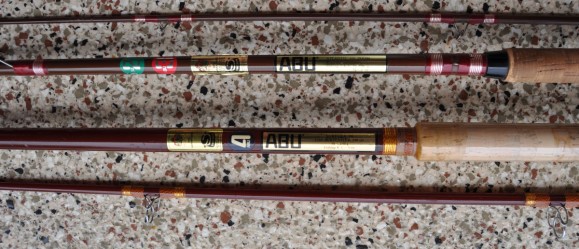 A couple of nice old long ABU rods, viz a 2 piece Atlantic 450 and a rare 3 piece coarse fishing rod named ABU Feralite Mark 6 All England Match rod.
Both have adjustable position reel seats.
Some more lovely old Record and ABU Rods

Salmo Record Scandia 5
Pacific 8 Pacific 20
Pacific 8 Atlantic 470
My Personal Collection numbers approximately 100 + Record/ABU rods, covering.....
1. Baitcasters over several decades ranging from short steel Record rods to ABU Diplomat Zooms
2. Spinning from Atlantic 4 series to miniscule freshwater rods
3. Fly fishing from early Laplandia to Diplomat Series and more modern Carbolite Series
4. Match fishing with the huge telescopic Mark 370 R and All England Ferulite Mark 6

5. All Ice fishing Pimpel rod/reel combos
6. IGFA rods, notably the lovely Pacific 30 S with unique handgrip , old Pacific Fladen and most recently a friend Alan from Queensland who decided his 1975 Pacific 20 should have a new home in my collection here.
7. A mint in bag, tagged and all, ABU Atlantic 463 S with the special unique handgrip as found on the Pacific above. This grip was only utilized for 2 years and on these 2 rods. A rare find!
8. A representative sample of USA Garcia made rods from 1950/1970. I particularly like the Pac rods.

7. Missing and wanted are :

a. Tournament Caster integrated reel / rod
b. Horgard split cane baitcaster or spinrod imported by ABU from Norway , Nea, Threadline, Figga and Norsk, Sjoa
(Click to see big Horgard page),

c. ABU Royal,

Ferrulite Fly Salmo 12' Suecia Safari Spin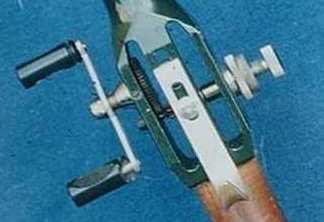 Combo Tournament Caster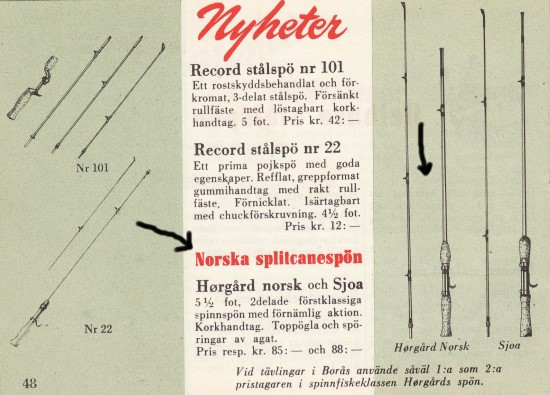 Horgard Baitcasters
Thanks for help with images and text Wolfram , Jon and Hans!
Hopefully one of these fine rods will come to my collection here one day to further flesh out more of the wonderful A.B.Urfabriken history.
8. Possibly, even for a collector, there are others I don't know a lot about yet!
like the Boron Classic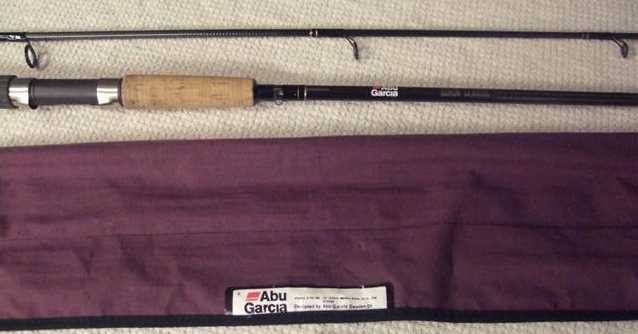 A recent interest of mine has been the ABU Pacific boat rods.
Of course these rods were always supplied in bags ranging from plastic to cloth and even some had a heavy duty plastic tube protecting the cloth covered rod within. I am not sure if any were sold with threaded aluminium tubes.
Click image below to see samples of rod covers.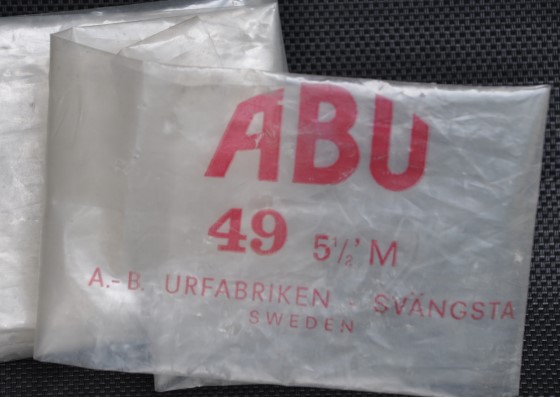 Getting down to the real purpose, ie Fishing
Here we see my current Estuary and Boat rods
Some are Swedish ABU rods but many are custom made from assorted best practice blanks of the day.
Many are quite old favourites which still get a day out fishing and others are state of the art modern rods.
Amongst them are a couple of Everol IGFA Game, Salt water Fly and a favourite Everol J12 jigger bequeathed to me by Paolo, my good mate and owner of Everol Inc. in Italy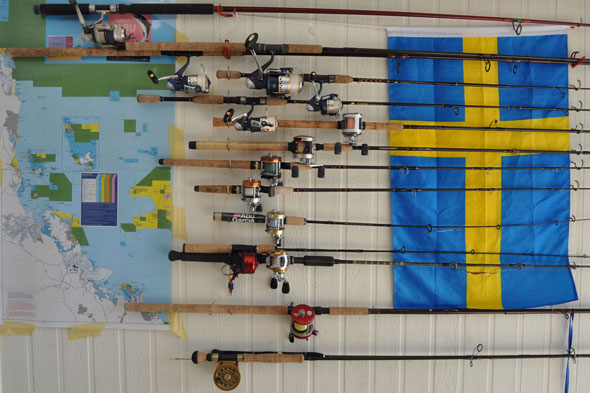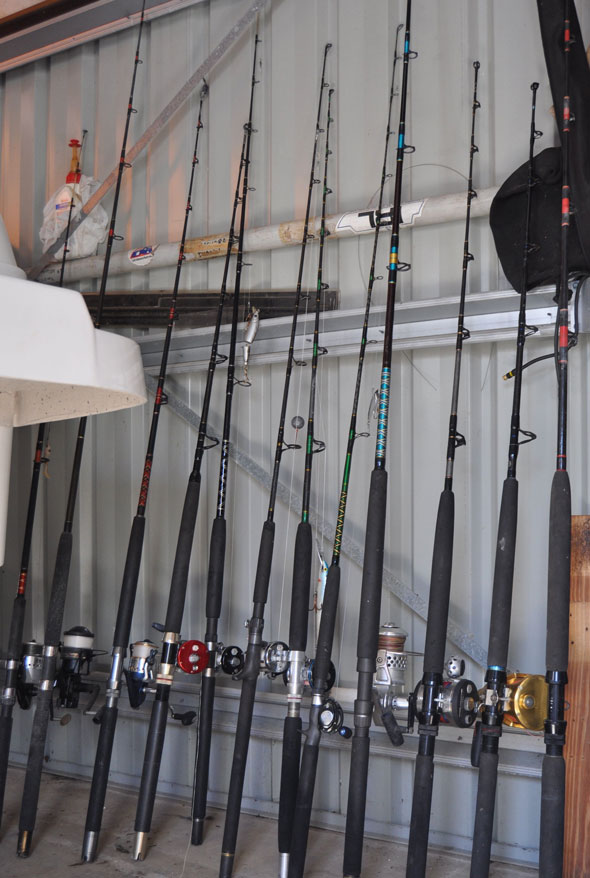 Jack Erskine RIP
He was in my mind always Australia's Premier Rod Builder.
He was also recognized by management of ABU in Svangsta , with an Ambassadeur named after him.
He designed new spools for the very heavy ABU 20/30 series and numerous other reel parts like mags etc.

The fact that overseas film stars like Lee Marvin came to Australia to catch Marlin, also had Jack build his rods, say a lot i think.
If one wanted simply the best rods or modified ABU tackle , you looked no further.

See below.
I am fortunate to have had Jack build two special rods for me long before we became friends.
Many more high quality commercial Custom rod builders are available in Australia now in the last 3 decades or so.
My first two ABU rods are a re-worked Atlantic 484 (due to a fall on the rocks) and ending in a subsequent unintentional shortening, beautifully customized by Steve Pill of Barra Jacks Bait and Tackle in Rockhampton, it doesn't get a lot of work now as I fish predominantly from my boat.
The other an ABU Diplomat 662, bought new in London athe same time as the big Atlantic (1975) saw 2 decades of hard use!
Since starting collecting, I have now managed to find Record steel, solid glass, hollow glass, Diplomats (I still need the short handed baitcaster 651) carbolite and in all forms , spin, fly, casting except for the Pacific Boat class rods.
I have at last found a few old annodized speedlock handles , both Record and ABU branded in black, green and silver. Some have been added to new custom rods for a bit nostalgia fishing!
I

once had an ABU Diplomat 622 Doubled handed baitcaster that I bought in London in the seventies. Alas sadly, it was broken and the only part left was the Speedlock handle for which I'm trying to find a suitable 3 or 4 piece rod blank suitable for packing in a suitcase. The double-handed speedlock butt from this 622 rod was rebuilt on a Fenwick 10kg bait-casting blank in October 1979 by genius and cutting edge rod-builder Jack Erskine of Precision Reel Engineering of

2 Finch Street Bayview Heights
P O Box 2382 Cairns
QLD 4870 Australia
Phone: (07) 40546048
Mobile: 0413 584 897
Fax: (07) 4054 7487
Email: sportint@cairns.net.au
By the way, Jack's Bronze Trophy small oblique view above, see larger view of (front and back) of the one eyed bragging fisherman with elastic arms is now gracing these pages as it has just been restored. It has its little bronze ABU (naturally) fishing rod and reel missing from the stand. If anyone has idea how I can restore this attachment, ie finding another or making a cast from another, I would very much appreciate hearing from you.
We have recently re-met via this website and when he learned of this new failure in the cast alloy of the butt, he immediately has offered a solution to the problem (after 26 years....What a warranty!! Who said quality is not as important as price?) It will be fantastic to feel the old double handed speedlock butt again in my hands...I could just never throw it away!
So , in summary, I presently only have around 50 Record and ABU rods, 7 being multi piece (3 or 4) as well as a Safari Telescopic rod , one Record 15 Pimpel and the ABU Pimpel 1 & 2 Ice fishing rod and reel combos at present, but hope to collect some more rods over time. I would be looking for a steel rod circa Record days, a split cane Horgard baitcasting or spin rod, a hollow fibre glass rod and a Boron model from any of the Type 1,2,3 or 4 balanced tackle fishing groups. A replacement ABU Diplomat 662 has been found!
Many more fine Record or ABU rods will hopefully find there way to my collection filling in the year gaps!
For actually fishing with is this IM6 Graphite Pure Fishing Ambassadeur Steelhead rod which is just superb, points and casts and loads beautifully from the beach or rocky headlands. http://www.realsreels.com/ambassadeursteelheadrod.pdf
If you have any others listed above, that are unneeded or doubles in your collection and are available for a reasonable fee, I would be very pleased to hear from you. Particularly any Record rods or Diplomat series, or Safari Fly rod and a Pacific Series boat rod.