Rods : ABU Overview
PART 1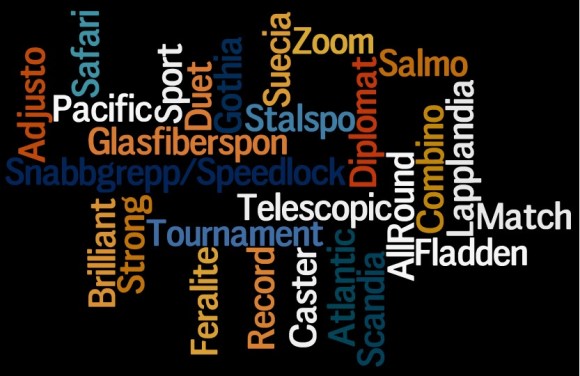 Record/ABU fishing rods were less common in Australia than their reels and lures in the 50's and 60's, for many reasons.
The first rods from ABU appeared in Australia in the 60's. Vic McCristal was an early adopter who brought the benefits of the Speedlock grip to our (my) attention.
By the 70's they were becoming more popular. My first ABU rods were bought in London in 1975 and the Diplomat 662 and Atlantic Surflex received my favour.

It has been gently pointed out to me that the discussion of ABU rods has been mainly featuring items from the Swedish perspective and not much mention has been made of the contribution by USA Garcia contribution to ABU rods. I accept this criticism and am happy to detail here on a linked webpage when anyone wishes to contribute. John Fishkat from the USA, who has contributed significantly here in catalogs from USA as well as the lure section will assist here when time permits him. All others quite welcome too!
So onto the documented Swedish made rods
Detailed pictorial catalog descriptions of the evolving range of ABU rods can be seen here.
Detailed verbal synopsis of Record/ABU fishing rod evolution documented here.
Detailed discussion/research findings above on the Record/ABU show evolution / transition from Stalspo (steel rods) to fibreglass, both solid glass (massiva) and Hollow tubular glass (Rorformiga) rods . The findings will show in-house development of steel rods, import of split-cane rods, and the importing of fibreglass rod blanks to be finished in house at Svangsta to the later fully independent creation of the Zoom series of rods from 1970 in Sweden. Also discovered is ABU's purchase from Fenwick, the Ferulite glass to glass ferrule rods and later move to the use of carbon-fibre.
Over 25 series of named rods below would appear over 4 decades before the range went to being made in the far east in early 80's.

My Record/ABU studies indicate that first came the steel rods, split-cane Horgard rods , tubular hollow fibreglass rods, solid fibreglass rods and eventually Carbolite or graphite and Boron rods and my collection presently numbers around 100 + different examples from the huge ABU Atlantics to the diminuitive Pimpel ice-fishing types.
Steel was Sweden's stock and trade product, whilst Split cane came from Horgard in Norway, and fibreglass originated post war from USA as well as West Germany, from which ABU learned and improved upon from Narmco Industries, Sportex and Garcia.
Record and ABU model names and rod terminology that drip off the tongue from the 40's, 50's and 60'sand were known world-wide are
Record Stalspo (steel), Glasfiberspon, Lapplandia, Salmo, Suecia, Gothia,Scandia, Sport, Tournament, Snabbgrepp (Speedlock), Atlantic, Brilliant, Adjusto, Match, Strong, Fladden, Pacific, Combino, All Round

Reel Seat

as used on Combino and Adjusto rods, , Caster, Safari, Feralite, Zoom, Telescopic, Duet, Diplomat, ABU Royal

(I still need this one !)

.......
Rest assured , when you see this tag below, hanging from your rod, you are confident in having a fine casting tool available.

My most recent acquisition is an ABU Atlantic 463 S with the unique "slip the hand through" reel grip. A beautiful rod, min and tagged and bagged as if just from the factory almost 40 years ago! It only was offered for 2 years.
Also on the way to my collection from friend Alastair in New Zealand , are two Kilwell ABU rods to accompany several other similar ones I have.
Pictures in late February I hope.
I would consider my 100 or so collection as being complete if I could acquire the ABU Royal and most significantly the ABU Tournament Caster Combo rod/reel model.

Tony Perrin GM, ABU GB shares some memories
of his early rod building experiences from his famous father through to UK Campion caster Peter Bagnall, ranging from the sub-contract ABU rod production days till when he was GM and set-up the Scottish ABU rod plant post 1969.
Some of my personal collection (see below) located on the ceiling, include Swedish made rods and others collaboratively made by ABU, from around the world.
Here we see a couple of dozen examples ranging from the first old Record Stalspo steel rods, the rare Horgard split-cane rods, Atlantic surf rods, Pacific sea class rods to bait casters and light spinning rods, as well as long coarse fishing telescopic rods and delicate Pimpel and Fly fishing rods. I have about 80 ABU rods in total now featuring samples from all styles of rod made, excluding the combo Tournament Caster I still seek. Also missing is any sample of Garcia made rod from this parallel ABU era. Perhaps someone can help me here.
The rods are collectable display Record / ABU rods and combos as well as current fishing tackle
Latest batch of 6 ABU rods brought out by Uffe in November 2018 fishing trip are below.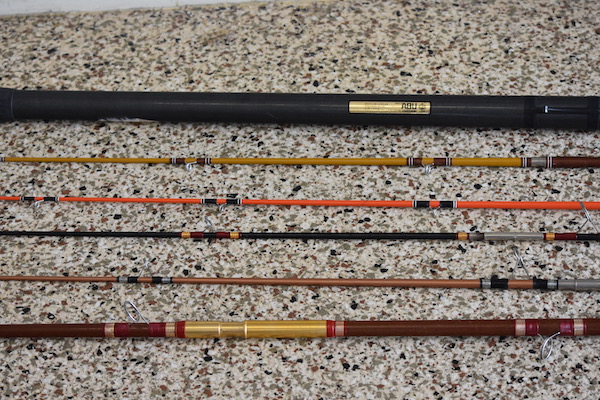 This is the fabulous Siesta 6.1, the largest rod made by ABU and used for coarse fishing, fully telescopic
and last biggest section comprises the case. The small amount of line used (no reel ) is found on this section.
Only one guide is employed as the tip .

This Caster Colorit Super Zoom below is bound with a stitched leather look grip. Beautiful rod.



The attractive Zoom 1142 baitcaster is below, elsewhere is the Type 4 heavier duty spinng version.


ABU 282 type 2 solid fibreglass 6 1/2 foot spinning rod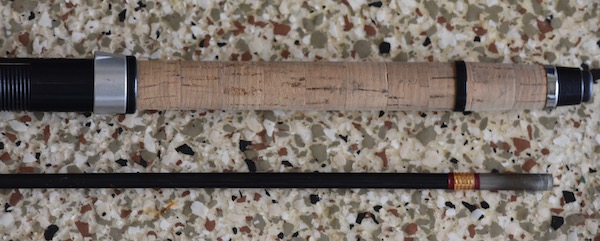 The reel grip can be positioned where wanted.


Another nice old spinning rod from the 60's, ABU Suecia 321, note the intact Royal Crest label.


The floating reel grip also allows personally asigned reel positions.


Very early ABU Atlantic 480 with hand cursive label , 2 piece hollow fibreglass 10 and 1/2 feet long .




An interesting set of rod colour coding used within the factory at Svangsta in 60/70's
Latest batch of 5 brought out by Uffe on 3rd September 2017 fishing trip are below.
The A.Horgard Threadline has its own page.

Interesting ABU 160 pair from different eras, note handles but identical otherwise even labels over several decades.

The this batch of vintage Record and ABU rods sourced in Sweden and recently transported (Sept/Oct 2015) to me by my good friend Uffe Edefuhr can be enjoyed below. The 12 kg batch in 3 big rod tubes make my collection now number 100 different rods from, Atlantic surfcasters, Lapplandia Fly rods, Spinning and Baitcasting styles as well as Pimple ice fishing rigs.
Detailed photos of each of my 100 or so Record / ABU rods is a big task but I will add more as time permits

Enjoy all the following images below, look for the very rare and unusual gems viz Gothica and Horgard rods below.

A delightful addition with help from my mate Alastair in New Zealand, boosts my ABU rod collection, is this fine 1st release ABU Caster Zoom, new from 1961.

See the 5 images below
It is wonderful to find the complete kit with rod bag and rod tube

Recent acquisitions over the last 2 years, and courtesy of Uffe's recent September 2013 fishing trip, are these following rods.
Perhaps my favourite is the very rarely seen, one piece 5 foot Record Gothia casting rod and its unique cylindrical large diameter fibre glass protective shipping tube, inside the usual cloth bag.


This Suecia Duet is a companion rod to the double tip Caster Duet further down the page

For something a bit older and different , enjoy my 4 Record Steel telescopic rods here and 2 more soon to appear.
They are numbers 22, 24, 25 and 40. They are 4 and a half feet long and are screw connected 2 piece with the exception of the Record 40 manufactured model. Two are cork gripped, while one is wooden and the other rubber. All have stainless steel reel seats with the fore-finger crurved grip. They hail from the late 40's early 50's. Two others are to arrive shortly, viz Record 1 with its cast aluminium handgrip and Record 40 which has a stainless steel winch mount like the others. While stiff and heavy to use, these were the only option other than the more expensive S[lit cane model from other manufacturers like Horgard from Norway, featured below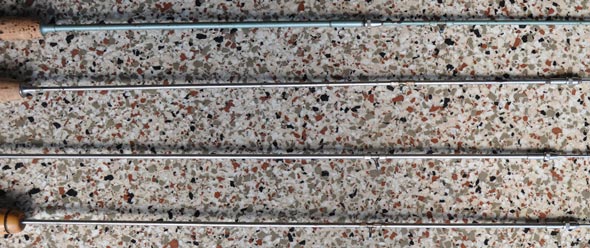 The next interesting rod is a mint in bag 3 piece Match fishing rod called Feralite Mark 7, which is a Type 1 (ultralight) example of 13 feet or 395cm length for casting weights up to 25g. There are nine very fine runners and a tip to manage the line. It features and adjustable reel seat position and is finished in the Diplomat binding colours of gold foil and black/grey striped thread. An elegant rod indeed!



I also have a 5 piece telescopic Feralite Mark 5 Type 1 Match fishing rod, similarly liveried but with a fixed reel seat.
The next batch from Uffe's recent trip is the blue Pacific M 30, an old Record 155, a single -handed baitcaster yellow solid fibre glass rod of 5 and a half feet in length. It sports yhe relatively new Speedlock handgrip which ABU has become famous for more than 3 decades , due to its ease of use.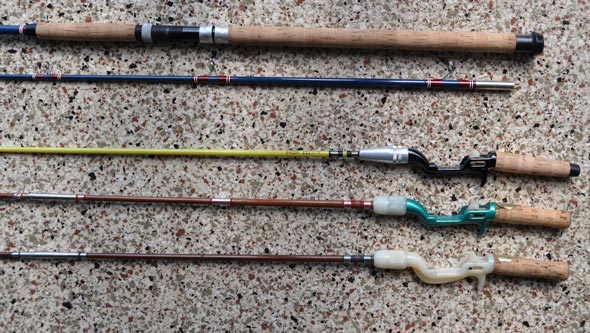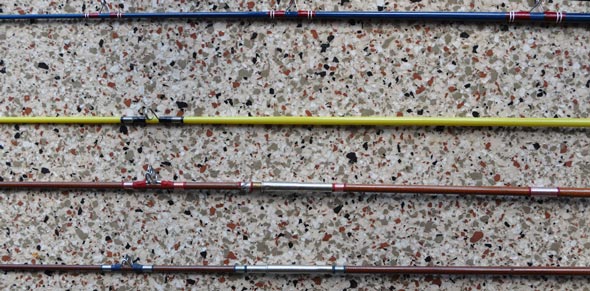 Two fine rods, each 2 piece from different eras. One an old 50's Record Lapplandia and the other a late 70's ABU Combino 1 , with an adjustable reel seat so it can be used for spinning as well as fly fishing


Early in 2013, I discovered the ABU variants in rod types from other manufacturers. Obviously USA's famous Conolon blanks were forward in the construction of Garcia's own designs and the Kilwell/ABU relationship in New Zealand produced very nice locally built rods. Milbro and ABU cooperated in Scotland in the early 60's. The ABU heritage of both these rods are featured further below
I own several examples of each of the New Zealand Kilwell/ABU fly rods and Milbro/ABU Scottish made baitcasting rods.
Duncan Francey from Scotland has recently re-homed his quite unique Milbrolite baitcasting rod with me.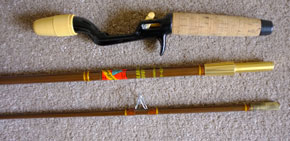 A full story will appear soon indicating how ABU and Milbo are connected. The is what I see as a 'missing link' between the Scottish Milbro rod company and Swedish ABU production in the UK.
My Kilwell/ABU rod, courtesy of Alastair in New Zealand, appears here below the Milbro.
I photographed it along side the Milbro to show similarity in finish.
It is a Spiraflex Customline Model 53-114 9 and half foot ATFMA 9 Flyrod
It is in mint condition complete with red bag and label.
Please click group image below to see more detailed images

A recent example is my ABU/Killwell Conolon Live Fibre Blue Line Robin Hood fly rod from New Zealand, kindly sourced for me by Alastair

Most of my 100 odd ABU rods are the real McCoy, made in Sweden, versions covering the wide range of styles mentions above.
To date, the only other than Swedish-made ABU are the Garcia from USA , Milbro from Scotland and Killwell from New Zealand. Are there other localized manufacturers fro ABU around the world? Perhaps South Africa ?
Another dozen vintage ABU rods are arriving in September, courtesy of my mate Uffe, who is coming on his usual 2 yearly fishing jaunt.
Garcia 5 piece baitcasting Pac rod from 70's.