My trip to Svangsta was preceded by my arrival in Copenhagan and being collected by
Uffe and Janet
where I experienced the best of hospitality.
At night a lot of soccer/football was watched due to 2018 World Cup in Russia along with Uffe playing
balalika
and
pedal steel guitar.
. I realy enjoyed visiting Janets father,
Helges old home/farm.
3 weeks passed in a flash!
We saw the
local area
,
river view

1
and
view 2
,
town square,
met neighbors
, searched local pawn shops,
tested local eateries
, and
# 2
,
smoked Salmon and eels
, learned to make
Gravlax,
the Swedish delicacy of salt and dill cured trout as well as fished by different methods not experienced by me before.
Fly fishing
had to be learned and Coarse fishing were just as alien to me. No charter boat fishing was possible due to sea conditions.
The trip to the
Kullberg Peninsula
only an hour away from Angelholm was very beautiful and interesting.
This trips to the east were done in several parts due to the generosity of my mate, adopted brother and friend Uffe Edefur who facilitated all the driving.
So the Maid of the Morrum River and environs was spectacular. The buffet a the House of Salmon was the cheapest for quality provided. Lobster bisque , multiple choices for mains and tasty desserts.
We made many fishing trips with different styles of fishing attempted.
There were trips to the north of Sweden as far as Sandviken to visit Kent Sunderland as well as lake pike fishing near Uffes family farm, as well a trip south to Vilby in Denmark to visit Davy Smith and Svenaga as well as the Morrum River area. Next we travelled to Orkelljunga, the town where the little known Multofabriken was set up to produce Cardinal and Abumatic reels for ABU from 1973/1982.
It was done like this as the visiting of old ex employees would not fit in with the 3 days allowed for the official visit planned nearly a year ago by Olle Lidesjo on the suggestion of Lennart Borgstrom, who could easily be an adopted father.
After a short introductory paragraph and image or two , the highlighted URL will hyperlink to the various subtopics in the history section.
Stig Svensson ABU Photographer/Filmmaker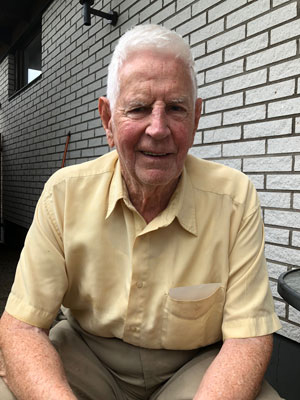 Bert Nilsson in Assaru
m.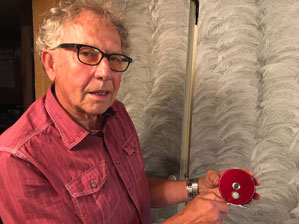 Borge Joahanssen
with Uffe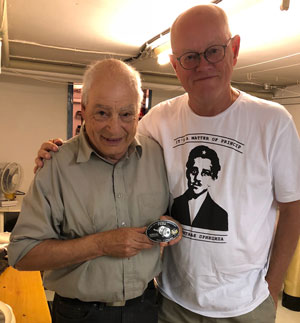 We failed in our trip to connect with Inge Olof Tegvald , catch up later.....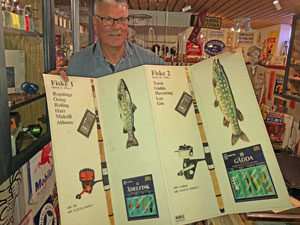 the Green Record 5000 but his collection is just stunning! Uffe and I were made very welcome to view
touch, discuss the collection and also going fishing with Kent.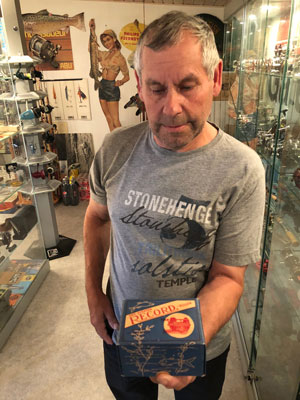 SvendageMadsen
collector from
Svinninge, Denmark
Final 3 days of my holiday, organized by Olle, were Thursday/Friday/Sat 28/29/30 of June.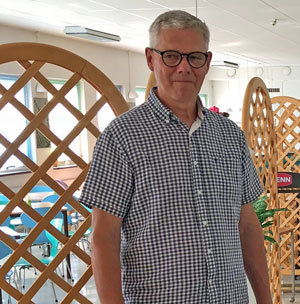 Thursday
Then, spend the rest of the day there talking, fishing, sauna, along with a few drinks too!

In the afternoon we will have a few more drinks and have lunch and evening dinner together.
Friday.
9:00 Factory tour
10:30 Meeting some more journalists
12:00 Lunch
13:00 Meet another journalist and then look at the museum.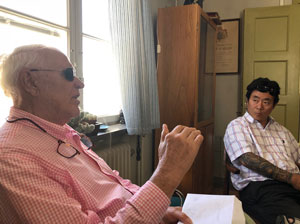 In Svängsta we will meet Michael you tour guide and some of the people that you know.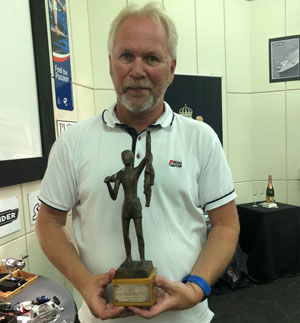 Saturday: fishing (as well as parts of Thursday and Friday)

Departure for Copenhagen airport courtesy of Uffe on Sunday morning.
BLT Newspaper article of my visit to Svangsta.
Greatest ABU Collector in the World, I doubt, but no more passionate
collector and historian.
Kindly translated by AndersTuneskog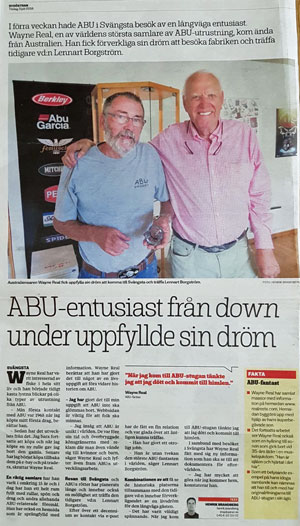 Last week ABU in Svängsta had a visit from a long range enthusiast, Wayne
Real, one of the worlds greatest collectors of ABU equipment, came all the way
from Australia. He got to realize his dream to visit the factory and meet the
former CEO Lennart Borgström.
The Australian Wayne Real got to realize his dream to come to Svängsta and meet Lennart Borgström.
ABU-enthusiast from Down
Under met his dream.
Svängsta
Wayne Real has been interested in fishing for his whole life and he began early to throw bright
glances on different kinds of equipment from ABU.
-My first contact with ABU was 1965 when I bought my first lure, he tells.
-Then it has developed from there. I just kept on buying and when I bought a new reel I gave the old
one away. Later on I had started to buy them back on e-bay and tradera, he laughs.
He´s been a real collector for about 15 years and today he has a whole room filled with reels, rods
and lures and various ABU-related items. He also has a web page bristling with information. Wayne
Real tells that he has made it to something of a life task to pass on the history about ABU:
-I´ve made it to my role that ABU should not be forgotten. The web page is important in helping
people to remember.
- I realized that ABU is unique in the world. They were before their time and bridged gender borders
with advertisments intended for women and children, says Wayne Real and also highlights ABUs
development.
The journey to Svängsta and the roots of ABU has been planned for a long time and also made an
opportunity to meet the former CEO Lennart Borgström.. After more than a decade of contacts
through e-mail they´ve got a nice relation and were glad to finally be able to meet.
-He has made an incredible work.
-He is with no doubt the greatest ABU-devotee in the world, says Lennart Borgström.
The combination of beeing able to see the historic places together with the former CEO made a
realization of a life dream for the long range guest.
-It has been very exciting. When I came to the ABU cottage I thougt that I´ve died and camed to
heaven.
In conjunction with the visit in Svängsta Wayne Real has brought along new informatioin that he will
ensure to substantiate for posterity.
-I have a lot to do when I come home, he states.
Facts
ABU-enthusiast
Wayne Real has collected plenty of information at the home page www.realreels.com. The home
page has been built up with help from his super intelligent son.
The continued work sees Wayne Real as a tribute to to the son that passed away at 35 years of age in
a muscular disease. "He´s the soul and the heart in this"
As an illustrative example on his assiduous gathering can be ment that he even got the original
drawings for the ABU cottage in his possession.
2019 Napp och Nytt
I was recently honoured by the Pure Fishing (old A.B.Urfabriken or ABU company from Svangsta) ,

by having my visit to Factory , Museum, Shop and staying at the Fiskestugen on the Morrum River and my first meeting
after all those years since I first wrote to Lennart Borgstrom in the late 70's recorded for posterity
in the 2019 Napp och Nytt catalog.
Below are some screen shots of the article and Dr Google translation of text.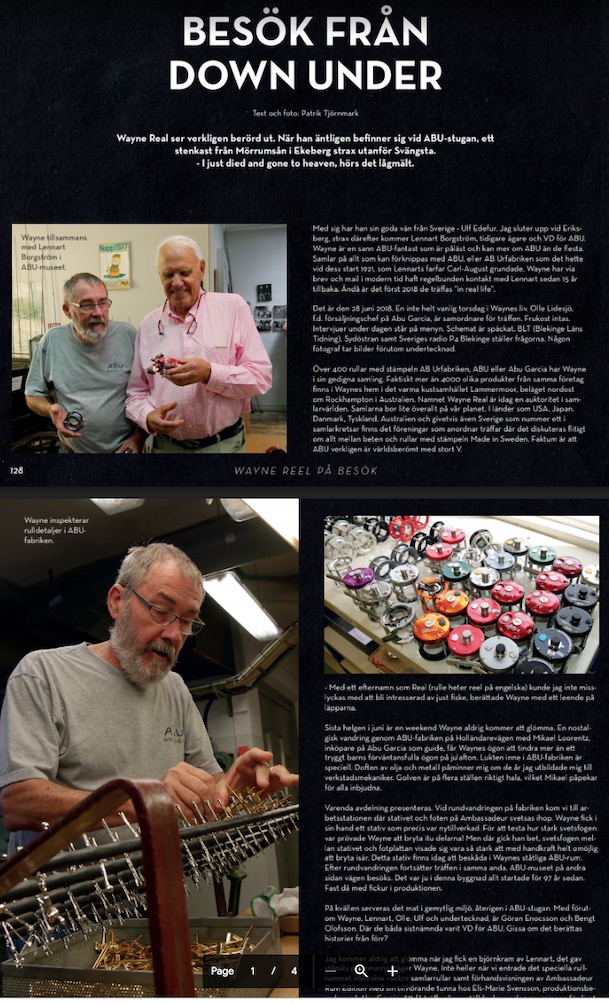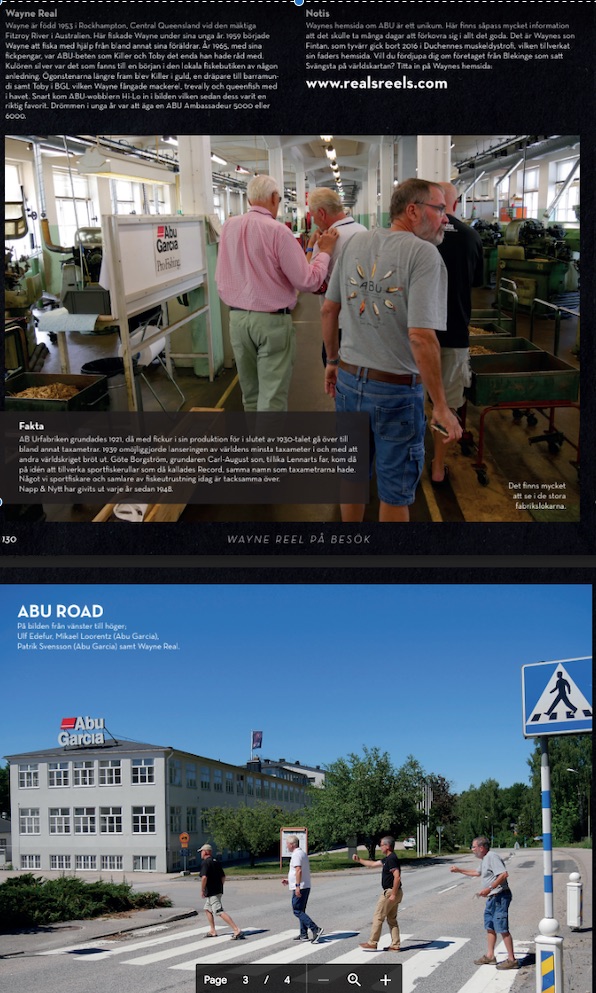 This is a somewhat amusing and lacking in the translation of the original Swedish text I feel.
Blame Dr Google!


VISIT FROM
DOWN UNDER
Text and photo: Patrik Tjörnmark

Wayne Real looks really affected. When he is finally at the ABU cottage, one
stone throw from Mörrumsån in Ekeberg just outside Svängsta.
- You just died and gone to heaven, it sounds low-key.

With him he has his good friend from Sweden - Ulf Edefur. I conclude at Eriksberg, shortly thereafter Lennart Borgström, former owner and CEO of ABU.
Wayne is a true ABU fan who is read and knows more about ABU than most.
Collects everything that can be associated with ABU, or AB Urfabriken as it was called
at its start in 1921, founded by Lennart's grandfather Carl-August. Wayne has via
letters and emails in modern times had regular contact with Lennart for 15 years
back. Yet it is only 2018 that they meet "in real life".
It is June 28, 2018. Not a normal Thursday in Waynes life. Olle Lidesjö,
ex sales manager at Abu Garcia, is the coordinator of the meeting. Breakfast is taken.
Interviews during the day are on the menu. The schedule is packed. BLT (Blekinge Läns
Newspaper, Sydöstran and Sweden's radio P4 Blekinge ask the questions. Someone
photographer takes pictures except signed.
Over 400 rolls with the stamp AB Urfabriken, ABU or Abu Garcia have Wayne
in his solid collection. In fact, more than 4,000 different products from the same company
is located in Waynes home in the warm coastal community of Lammermoor, located northeast
about Rockhampton in Australia. The name Wayne Real is today an authority in the collector's world. The collectors live a little everywhere on our planet. In countries like the United States, Japan,
Denmark, Germany, Australia and of course also Sweden as number one in
Collectible circles there are associations that organize meetings where it is discussed extensively
about everything between the baits and rolls with the stamp Made in Sweden. The fact is that
ABU really is world famous with big V.

With a surname like Real (scroll is called real in English) I couldn't fail to get interested in fishing, Wayne said with a smile on
lips.
Last weekend in June is a weekend Wayne will never forget. A nostalgic walk through the ABU factory on Holländarevägen with Mikael Loorentz,
Buyers at Abu Garcia as a guide, make Wayne's eyes spark more than one
confident children's expectant eyes on Christmas Eve. The smell inside the ABU factory is
special. The scent of oil and metal reminds me of the years I trained myself
machinists. The floors are in many places really slippery, as Mikael points out
for all invited.
Every department is presented. At the tour around the factory we came to the workstation where the stand and the foot of the Ambassadeur are welded together. Wayne got in
his hand a stand that was just newly made. To test how strong the weld joint is
Wayne tried to break the two parts! But there he went bet, the weld joint between the stand and the foot plate turned out to be so strong that with hand force completely impossible
to break apart. Today, this stand is available for viewing in Wayne's magnificent ABU room.
After the tour, the meeting continues in the same spirit. The ABU Museum at others
the side road is visited. It was in this building everything started 97 years ago.
Then with pocket watch in production.
In the evening, food is served in a cozy environment, again in the ABU cabin. With besides Wayne, Lennart, Olle, Ulf and signed, Göran Enocsson and Bengt are
Olofsson. Where the latter two were CEO of ABU. Guess if it's told
stories from the past?
I will never forget when I got a bear hug from Lennart, it gave
Standing on the arms, Wayne says. Not even when we entered the special roll room with its beautiful collector rolls and the preview of Ambassadeur
Rum Edition 2019 , with its associated barrel at Els-Marie Svensson, production manager at Abu Garcia. Getting to meet all employees this day gave memories to life.
Then I hope that I will be invited to Svängsta again the anniversary year 2021,
thinking about our Australian friend. Then ABU fills 100 years.

Wayne Real
Wayne was born in 1953 in Rockhampton, Central Queensland at the mighty
Fitzroy River in Australia. Here, Wayne was fishing during his young years. 1959 began
Wayne to fish with help from, among other things, his parents. In 1965, with their
pocket money, the ABU baits that Killer and Toby were all he could afford.
The color silver was what was initially in the local fishing shop by someone
reason. The eyelashes later on became Killer in gold, a killer to barramundi and Toby in BGL which Wayne caught mackerel, trevally and queenfish with
in the sea. Soon the ABU wobble Hi-Lo came into the picture which has since been one
the right favorite. The dream at a young age was to own an ABU Ambassador 5000 or 6000th

Notes
Wayne's website about ABU is a unique one. There is so much information here
that it would take many days to improve in all the good. It's Waynes son
Fintan, who unfortunately passed 2016 in Duchennes muscular dystrophy, which made
his father's website. Do you want to immerse yourself in the company from Blekinge who sat
Swinging on the world map? Look at Waynes website:
Facts
AB Urfabriken was founded in 1921, when with a pocket watch in its production, in the end of the 1930s move to
including taximeters. In 1939, the launch of the world's smallest taximeter made it impossible
Second World War broke out. Göte Borgström, founder Carl-August son, also Lennart's father, came then
on the idea of making sport fishing reels that were then called Record, the same name as the taxi meters had.
Something we anglers and collectors of fishing equipment today are grateful for.
Napp & Nytt has been released every year since 1948.
www.realsreels.com


ABU ROAD
In the picture from left to right;
Ulf Edefur, Mikael Loorentz (Abu Garcia),
Patrik Svensson (Abu Garcia) and Wayne Real.